Top sustained winds of 130mph were reported on Cudjoe Key after the category four storm made landfall.
Irma's eye is now beginning to move away from the lower Florida Keys, amid concerns that storm surges of 4.6m (15ft) could engulf houses in low-lying coastal areas and cause catastrophic flooding.
Police say a man in Florida Keys was killed in a truck crash – the state's first fatality to be linked to Hurricane Irma.
Monroe County Sheriff's Office said his body was discovered by first responders who were patrolling during lulls in the bad weather on Saturday afternoon.
Another two people died in a head-on crash in Hardee County, where tornado warnings are in place as severe thunderstorms advance.
:: Live updates: Hurricane Irma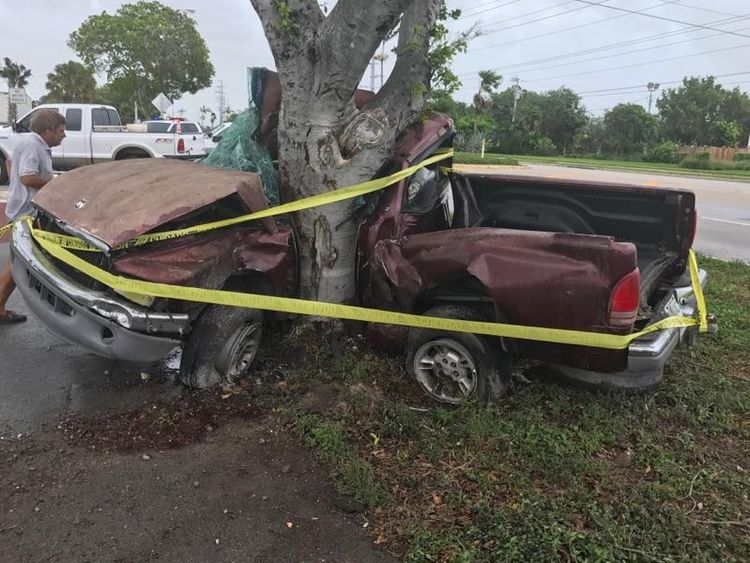 Meanwhile, a woman in Miami had no choice but to deliver her own baby – with medical personnel coaching her on the phone because the emergency services were unable to reach her. Mother and child are now recuperating in hospital.
Elsewhere in the city, a crane collapsed in strong winds. It is not immediately clear how much damage it caused, or if anyone was injured.
The National Weather Service says alerts for tornadoes are in place across southern Florida, with locals being warned that "fast-moving tornadoes can develop with little warning in hurricane rain bands".
A "strong rain band" from Irma is rotating into the Miami metro area, with gusts of 80mph to 100mph expected.
The NWS has urged those exposed to Irma to stay indoors, hunker down away from windows, and to use "whatever you have to try and protect yourself from flying debris".
According to the Federal Emergency Management Agency (FEMA), a shift in Irma's path poses a severe threat to the Florida Keys and the state's west coast.
:: How are hurricanes categorised?
Rick Scott, the governor of Florida, has said he is "very concerned" about the west coast following Irma's arrival – with President Trump promising to provide whatever resources that the state needs to rebuild.
Tampa Bay has not taken a direct hit from a major hurricane since 1921, when its population was about 10,000. Nearly 100 years on, the area is now home to three million people.
For those trying to flee and seek refuge inland, the changing forecast has caused concern.
"Not only did we go west, but so did Irma. She's tracking us, that feisty minx," said Chris Cardona, who has fled his mobile home near Miami with his wife Laurie.
A total of 6.3 million people in Florida were ordered to evacuate – about a third of the state's population.
:: Florida "diehards" defy Irma
Hurricane Irma is up to to 400 miles wide, leaving the entire Florida peninsula exposed.
The storm killed at least 22 people as it swept across the Caribbean – and in Florida, America's third-most populous state, officials are also treating Irma as a "life-threatening situation".