On the outskirts of Beijing we found large swathes of housing reduced to rubble, in what looked like the aftermath of an earthquake.
But this destruction is wholly man-made.
It is part of what's known as the "urban rectification" campaign – a local government plan to limit the capital's population, and smarten up its image.
It appears to be being conducted with no consultation, and little regard for those who live here.
One afternoon, scores of security guards arrived at the Zhiquan School in north Beijing and formed a cordon as heavy machinery moved in to tear down one of the classrooms.
As a large earth-mover started smashing, some of the teachers filmed the moment on their phones.
The teachers said the men refused to speak to them, gave them no papers, and no explanation for what was happening.
The following day, Li Jia Liang, a parent and teacher at the school, showed us around the ruins.
"All the children's school work, their playthings, their sports equipment, everything is under there," Mr Li said, pointing to a heap of rubble strewn with hula hoops and basketballs.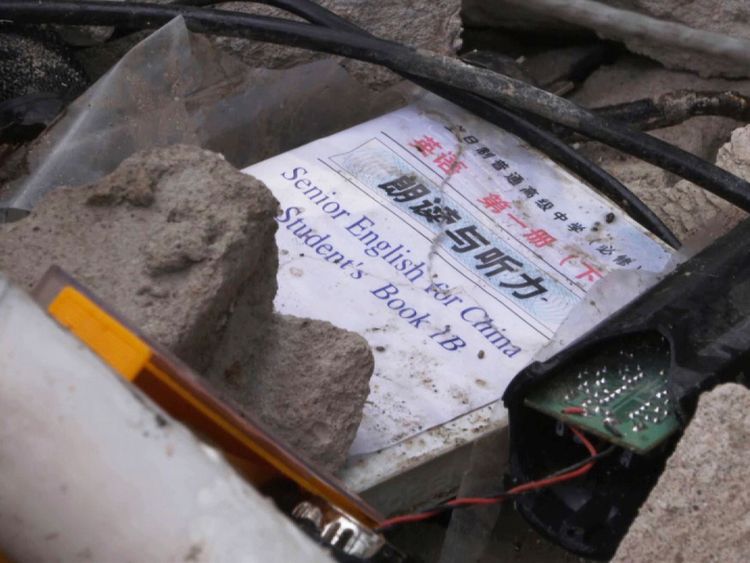 Half-buried amongst the broken masonry, we saw a student's English textbook.
"I'm sorry to the families, sorry to the children," he said, pausing to wipe tears from his eyes.
"For so many years we did our best to build this school for the children's education, but now the government doesn't support us."
"[They] turned the school into ruins. I can't accept it."
The school is attended by around 700 children of migrant workers – families who come to Beijing from poorer parts of the country in search of better prospects and jobs.
Because they don't have household registration papers for the capital, known as 'hukou', their children aren't entitled to state education or healthcare, and they have to attend private schools instead.
They had asked for time to move the school, which Mr Li told us has a licence, a contract for the use of the land, and has been operating on this site for 14 years, but the whole area has now been declared an "illegal settlement".
Plans published online suggest the local authorities want to turn it into forest.
"We are teachers, parents, and children," he said, "We have no power, but you need to give our children a chance to go to school, to get an education."
We asked some of the children whether they understood what was happening to their school.
They shook their heads as they looked at the rubble.
"I feel sad," 12-year-old Rao Yixi told us, "I have been studying in this school for many years. Suddenly the school is demolished."
Previous campaigns had already pushed schools and communities like this out to the margins of the capital, but now it seems they are no longer welcome here.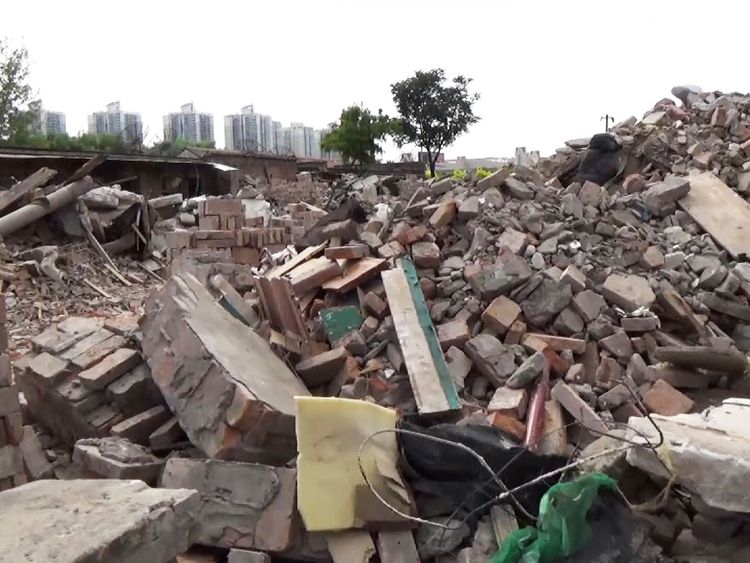 Sky News found five other schools for migrant children in the area that had either already been demolished or were facing imminent demolition.
They are not just losing their schools – their homes are also being torn down. In the village we visited, the electricity and water had already been cut off, and the walls spray-painted with the chinese character for demolition.
As we filmed, some local government officials arrived to try to stop us from interviewing anyone else, but the villagers refused to be silenced.
"My home is here. I have nowhere to run to," the mother of the school's headmaster shouted.
"I'm too old to move," she explained, "I don't want to break any government regulation or go against any policy, but now I am too poor to leave. I don't even have money for a meal."
"What should I do? I think again and again, but there is no way out. What should I do? What should I do," she said.
The local authority did not respond to Sky News' request for comment.