Lee Jae-yong was also found guilty by a panel of three judges of embezzlement, hiding assets overseas, concealing profits from criminal acts and perjury.
The court in Seoul found Lee hoped that bribes to then-president Park Geun-hye and a close friend would secure support for a merger that strengthened his control over the Samsung empire and its flagship Samsung Electronics business.
It marks the downfall for the scion of South Korea's richest family, which controls one of the world's largest consumer electronics companies.
Lee, 49, was accused of offering $38m in bribes to four entities controlled by Choi Soon-sil, a friend of Park.
Payments were said to include $6.4m in supporting the equestrian career of Choi's daughter.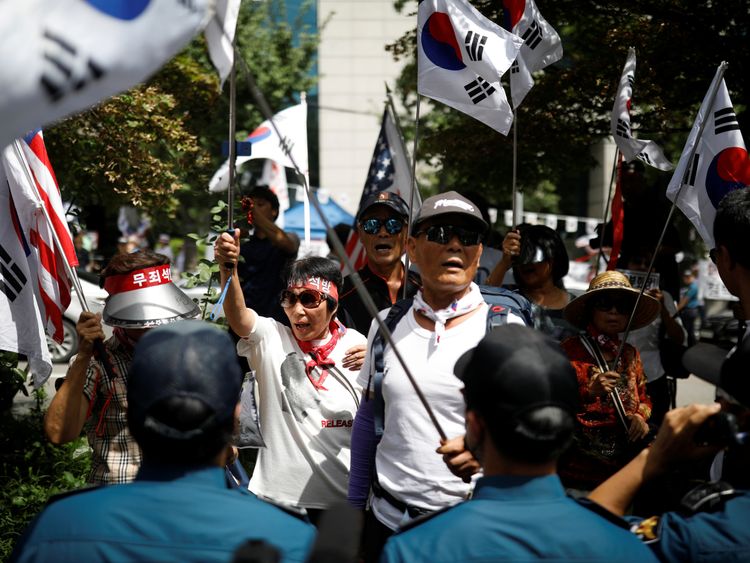 Samsung has not denied transferring funds.
But Lee, vice-chairman at Samsung Electronics and the Samsung founder's grandson, had said he was unaware of the donations, which were overseen by other executives.
One of Lee's lawyers said he would appeal the ruling and that he was confident his client's innocence would be affirmed by a higher court.
The sentencing is the latest episode in a scandal that saw millions of South Koreans protest last autumn, leading Park to be ousted.
Park was removed from office in March. She and Choi are both currently on trial.
Supporters of the former president rallied outside court to demand Lee's acquittal.
Other executives charged alongside Lee have also been convicted – with two jailed for four years each and two others receiving suspended sentences.
Samsung, founded in 1938, epitomises South Korea's economic resurgence after the Korean War in the 1950s.
Powerful family controlled business groups helped catapult the country from poverty to becoming a global economic power.
But there has been increasing concern over the cosy relationships between these groups and politicians – and over a series of corruption scandals.