"I can't say how long I'm going to be able to do this for, but, personally, I'd love to be there for the next five years, giving it my all," he told Sky News.
"If I can win another one, I'd be extremely grateful, but I'm just taking it one year at a time for now."
The 32-year-old admitted he felt more emotional than after his other wins: "The novelty of rolling onto the Champs Elysees in yellow, it doesn't wear off.
"Even having done it three times previously, you roll onto the Champs Elysees, the crowds, everything, it sort of brings to an end the three weeks of suffering, of stress, of emotions, it's hard not to well up when you get there."
The Team Sky rider, who previously triumphed in 2013, 2015 and 2016, sealed his fourth title by finishing 54 seconds ahead of Colombia's Rigoberto Uran, becoming the first person to win the race three times in a row since Spain's Miguel Indurain in the early 1990s.
Only five-time champions Eddy Merckx, Jacques Anquetil, Bernard Hinault and Indurain have won more Tours than Froome.
Chris Froome has clinched his fourth Tour de France victory – and third in succession

Setting off at the start of the final stage, Froome (centre) held a 54 second advantage

The processional nature of the stage allowed Froome to enjoy a glass of Champagne

However, the Briton still had to make sure he crossed the finish line with his Team Sky teammates

Froome passes the Arc de Triomphe as the 104th Tour de France nears its end

The 32-year-old steps up a gear in the Tour's 21st and final stage

Team Sky riders group together as they close in on the finish line

Froome crosses the line with Team Sky's Michal Kwiatkowski

Froome celebrates his win with son Kellan

The Briton said his win was 'the biggest challenge of my life'
/
Despite being booed by some of the crowds, the 32-year-old said he feels he has developed a good relationship with French cycling fans.
"I've really felt a huge change in just the feeling with the French this year," he said.
"Bar Marseille, but, okay, I'll forgive them for that as it was a big football stadium and there was a Frenchman on the start-line there… but, all in all, over the three weeks, the support has been fantastic out on the roads."
Team Sky principal, Sir Dave Brailsford, insisted the sport is free of the scourge of drugs that has dogged professional cycling and the Tour in past years.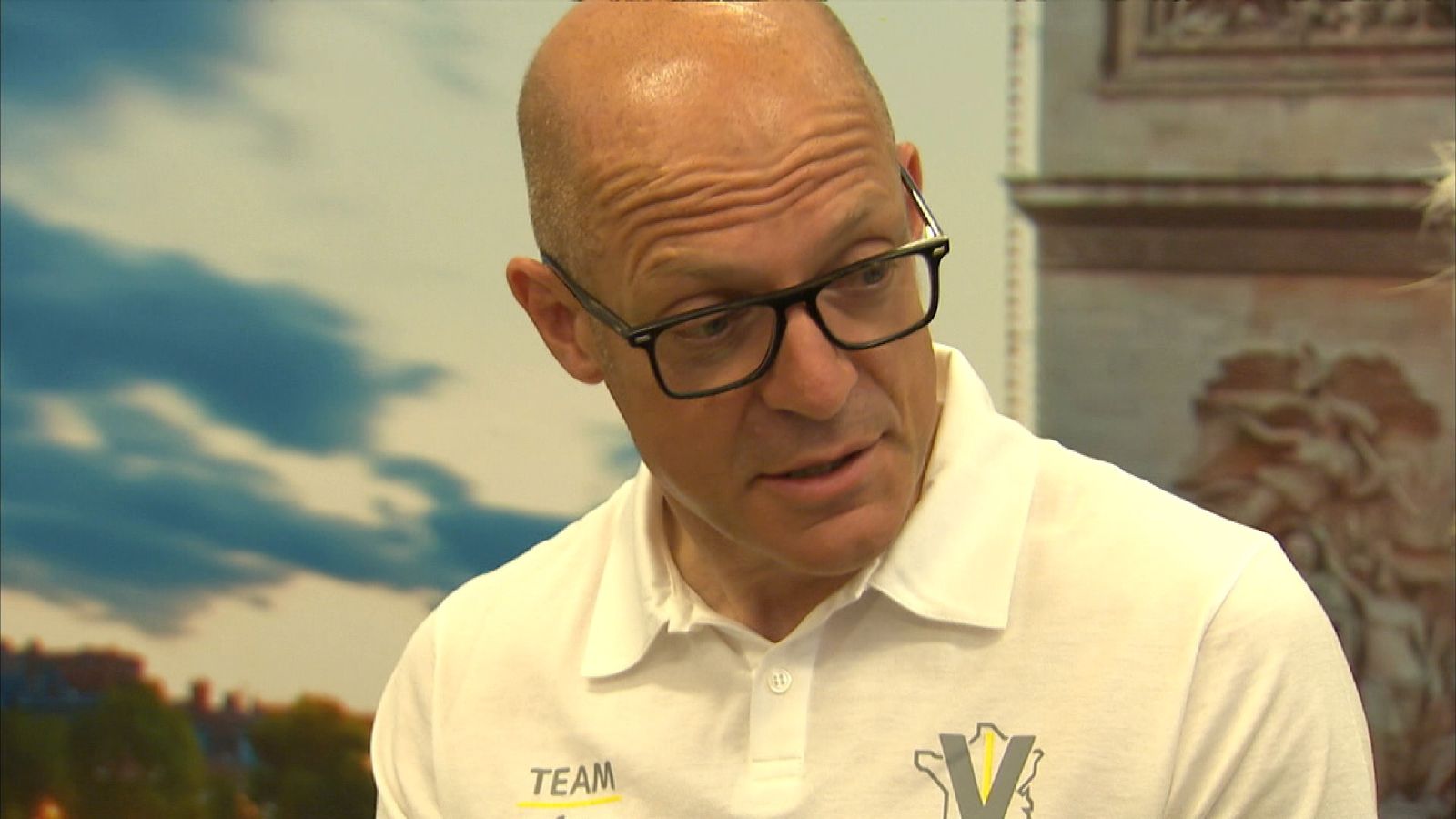 Asked if cycling is a clean sport, he replied: "It is, yeah."
In March, he admitted making mistakes in handling Team Sky's anti-doping and medical practices after an investigation into a 'mystery' package hand-delivered for rider Sir Bradley Wiggins, at the end of the 2011 Criterium du Dauphine, which he won.
There has also been controversy over three therapeutic use exemptions (TUEs) granted to Sir Bradley in 2011, 2012 and 2013.
Meanwhile, there is no rest for Froome, who will fulfil the traditional Tour winner's post-victory obligation by riding in a Criterium in Belgium on Monday evening to "engage with the fans".