The 24-hour walkout is under way and is the first of its kind since the 2002 protest that failed to topple Hugo Chavez.
It is being spearheaded by opposition politicians following an unofficial referendum – voted in by a third of citizens – which unanimously rejected the President's reforms.
Mr Maduro plans to consolidate power over the few institutions outside his control by creating an assembly to re-write the constitution. Opponents are boycotting the election on July 30.
An armoured vehicle hits demonstrators during clashes at a rally against Venezuelan President Nicolas Maduro's government in Caracas

Venezuela's military chiefs reaffirmed their loyalty to President Maduro by saying their forces would protect a controversial vote he has called for next week to elect a body to rewrite the constitution.

A 24-hour nationwide strike has been called for Thursday, launching what the opposition calls a "final offensive" to push President Maduro out of office

A demonstrator throws a molotov cocktail at security forces. Continue through for more pictures
/
The country remains hugely at odds, with its largest business group cautiously endorsing the strike, while the labour minister warned companies that supported the walkout would be "sanctioned".
Violent marches featured in the run-up to the strike, with molotov cocktails thrown at security forces and armoured vehicles used by the military ploughing into demonstrators.
Opponents have called the strike a "final offensive".
International reaction has been firmly against Mr Maduro, with US President Donald Trump threatening "swift economic sanctions" against Venezuela if the planned election goes ahead.
The EU and UN have also intervened and voiced fears it will only deepen the country's political crisis and add to the death toll currently standing at 97 since street protests started in April.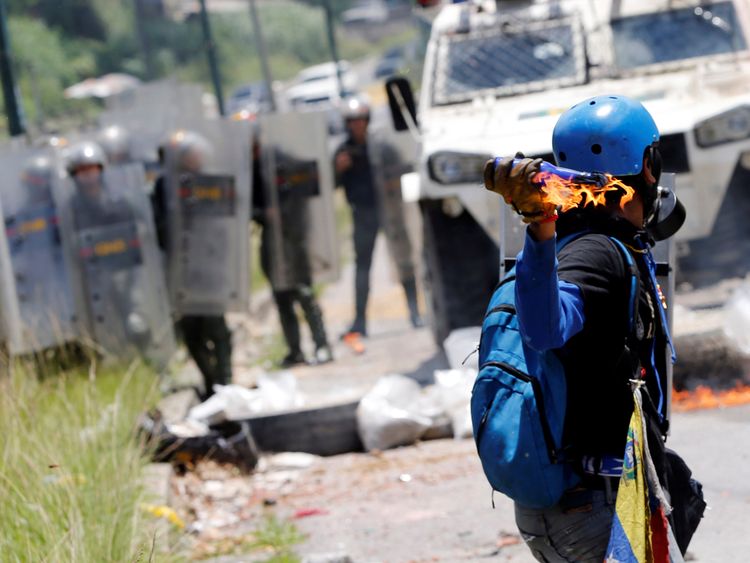 But Mr Maduro has vowed to press on "now more than ever" and to punish "conspirators" who try to stop him. He is backed by the military.
Despite being an oil-rich nation, Venezuela is staggering under food and medicine shortages, triple-digit inflation, rising crime and reeling currency controls.
The government blames an economic "war" waged against it by the US.
But the opposition political party, which controls the National Assembly, blames mismanagement and a policy agenda of nationalisation and state appropriations of companies.