The mountain rock slip engulfed more than 40 homes and a hotel in the village of Xinmo in Maoxian county, Sichuan Province, around 6am local time on Saturday.
A couple and their one-month-old baby were rescued and taken to hospital while emergency workers are still trying to reach a fourth survivor.
Five bodies have so far been pulled from the rubble.
An estimated 105 million cubic feet of rock and mud – the equivalent of more than 1,000 Olympic-sized swimming pools – slid from high up the remote mountainous area near to Tibet.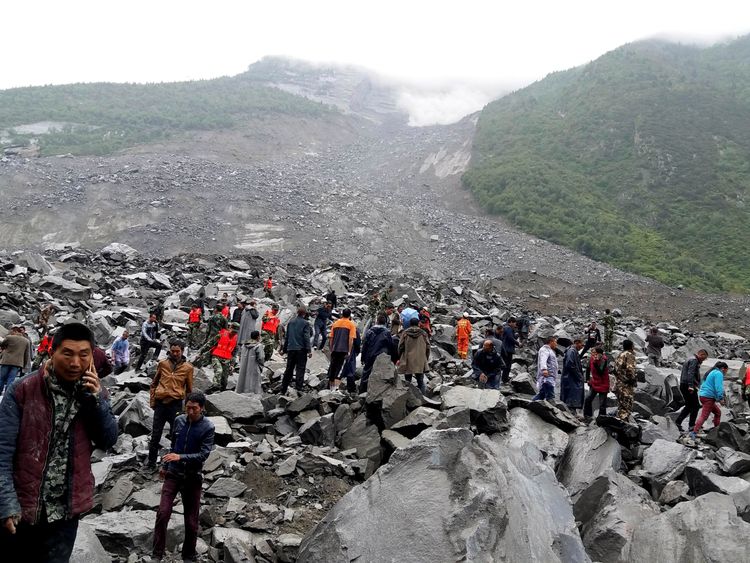 More than 400 people are frantically scouring the site for other survivors, with China's president Xi Jinping calling on them to "spare no effort".
TV images showed police and residents pulling on ropes in a bid to dislodge large boulders, with bulldozers and large diggers also working to remove the massive rocks.
Water thick with mud was seen flowing over the site.
The landslide, believed to have been caused by heavy rains, has blocked nearly a mile-long stretch of road and part of a nearby river.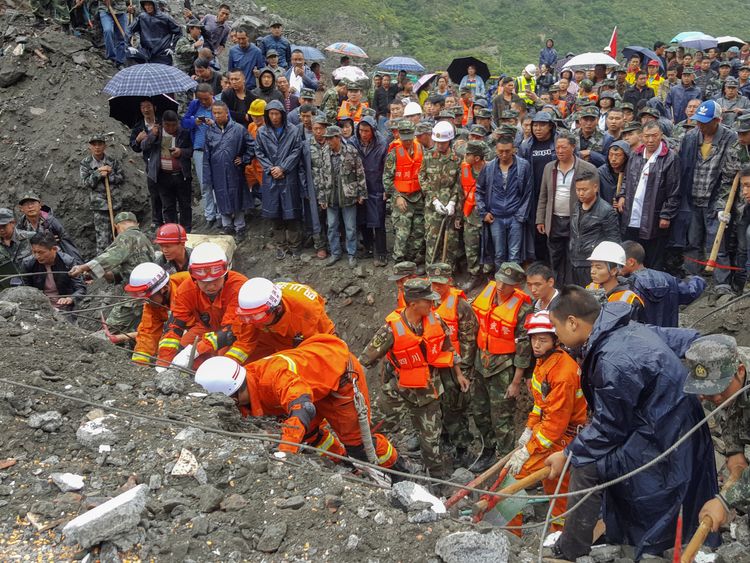 Local police captain Chen Tiebo said recent downpours in the region had triggered the slippage.
"There are several tonnes of rock," he told state TV.
The area is also prone to earthquakes, with the lack of mountainside trees meaning excess water does not get absorbed as easily.
More heavy rain is forecast in parts of Sichuan Province, amid fears a dam is at risk of collapsing.
Wang Yongbo, one of the local officials in charge of rescue efforts, described it as the biggest landslide in the region since the Wenchuan earthquake in 2008 – an 8.0 magnitude tremor that killed nearly 70,000 people.