According to a criminal complaint, Richard Rojas also admitted smoking marijuana laced with PCP shortly before making a u-turn in the heart of New York City and striking frightened tourists at speed with a Honda sedan.
Investigators are still awaiting toxicology results for the 26-year-old suspect, but officers reported he "had glassy eyes, slurred speech and was unsteady" when arrested.
Rojas appeared subdued during a brief court appearance on Friday. He did not enter a plea and has been held without bail.
"He murdered in cold blood," assistant district attorney Harrison Schweiloch said.
Alyssa Elsman, an 18-year-old tourist from Portage in Michigan, died in Thursday's crash.
Her 13-year-old sister is among those injured – with the New York Police Department confirming she is being treated for a collapsed lung and a broken pelvis.
Three people are in a critical condition with head injuries, and one of them is understood to be a 38-year-old woman from Canada.
Rojas is charged with one count of second-degree murder, five counts of aggravated vehicular homicide and 20 counts of attempted murder.
Although only one person was killed, a driver can face multiple counts of vehicular homicide under New York law if other people are seriously injured.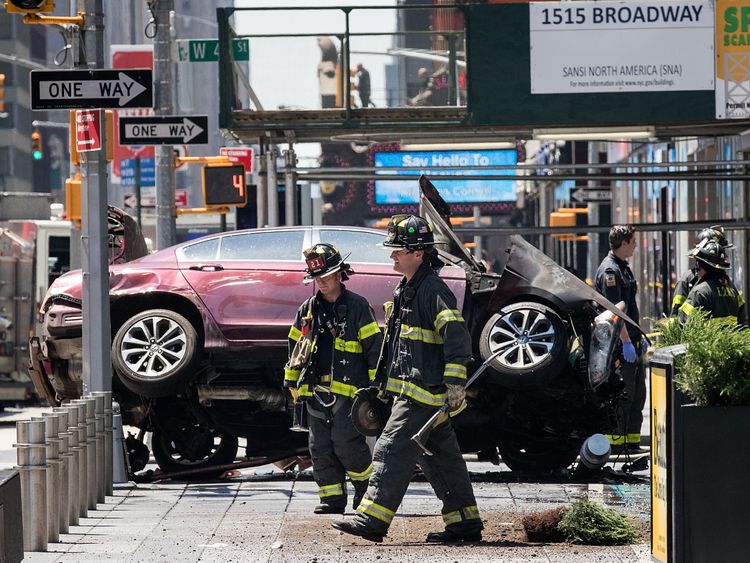 Rojas is next scheduled to appear in court on 24 May.
He was discharged from the US Navy following disciplinary problems and has a history of drink-driving charges.
Harrison Ramos, who lives near him in the Bronx, said he had been "going through a real tough time".
A week ago, Rojas had pleaded guilty to a harassment violation after being arrested for pointing a knife at someone he accused of stealing his identity.
New York mayor Bill de Blasio said there was "no indication that this was an act of terrorism".
In an interview with a local radio station, he said the suspect had "an untreated mental health issue going back probably decades".