This is an extraordinary moment for France on many levels.
Is he the young pretender? The accidental President? The saviour of the Republic? The EU's antidote to nationalism and populism?
The judgement starts now.
As he took office, he defined 'Macronism' in a 15-minute speech.
He praised the French people for choosing hope and the "spirit of conquest".
"The world and Europe needs France more than ever," he said. "A France that is strong and sure of its destiny."
Aware that he inherits a divided nation, he sought to address "the French who feel like they have been forgotten – they will feel more protected".
"I know the French people are expecting a lot from me," he said, acutely aware that some see him as the accidental president, propelled to office thanks to the corruption scandal which brought down the one-time favourite conservative candidate Francois Fillon and voted in, in part, by those whose motivation was to stop far-right candidate Marine Le Pen.
So what are the challenges ahead?
:: Forming his team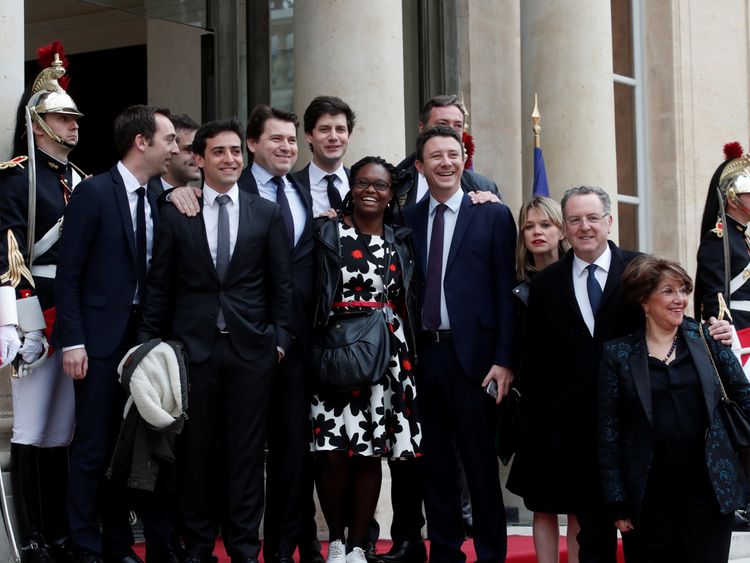 Among Mr Macron's first tasks will be to form his leadership team – consisting of his prime minister and the other ministers of state.
He'll announce his new PM on Monday morning before heading to Berlin (perhaps with the new appointee?) for talks with German Chancellor Angela Merkel.
The rest of the cabinet will be announced on Tuesday once he has returned from Berlin.
He faces a tricky task in making his choice for PM. Someone with experience of high office would seem to be vital.
But that would probably mean choosing a character from one of the two establishment parties he's been so keen to distance himself from.
It's hard to claim you stand for political renewal by appointing a Socialist or Republican insider as your PM.
Former Socialist prime minister Manuel Valls is clearly keen to serve in some capacity under Mr Macron. Last week he declared that socialism was dead and said he would be supporting Macron in the legislative elections in June.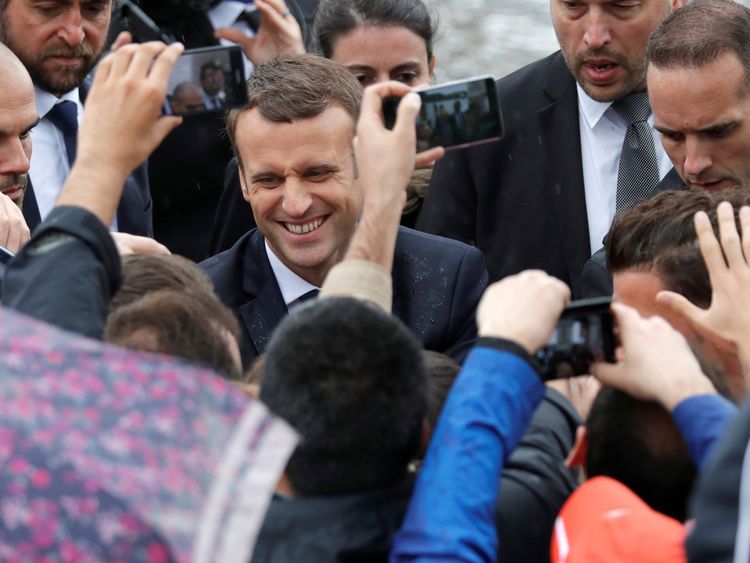 :: Brexit
Watching the inauguration from the front row in the Elysee Palace was one of his key advisers Jean Pisani-Ferry.
He has warned several times now that France will be tough on Brexit.
Mr Pisani-Ferry says that doesn't mean 'punishment' or forcing a hard Brexit on the UK, but Theresa May can still expect a rigorous negotiation with Mr Macron at the forefront of a refreshed Franco-German alliance.
Mr Macron sees Brexit as an opportunity to drive forward a new reformed European Union. He talked in his Elysee speech of relaunching the European Union project.
His first trip is to Berlin where he'll lay the groundwork for a new alliance with Germany.
With his election, establishment governments in Europe feel a new sense of self-confidence; his victory is seen as proof that a liberal pro-Europe candidate is electable.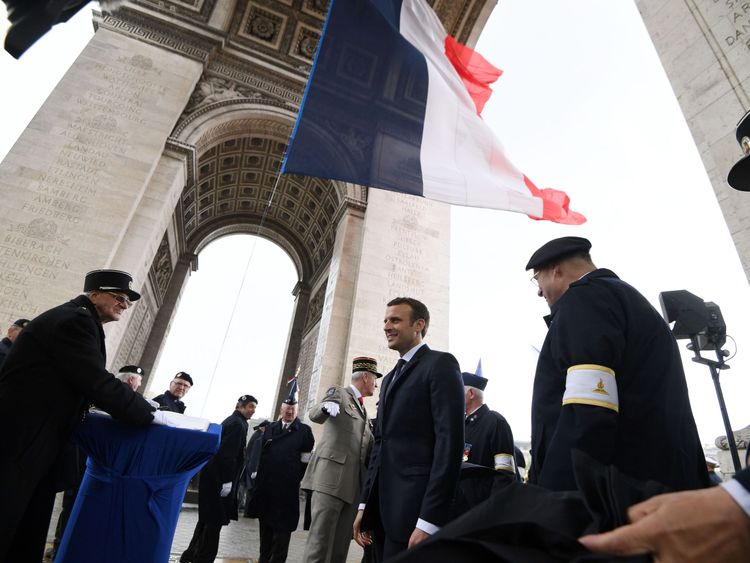 :: Reforming Europe
As president of the the Eurozone's second biggest economy, Mr Macon has called for deep reforms.
France has to meet stiff fiscal targets, and German chancellor Angela Merkel has hinted that she is unlikely to offer any leeway on those demands.
President of the European Commission Jean-Claude Juncker pointedly said recently that France had spent too much on the wrong things and would need to reduce its public debt.
Mr Macron has already committed to delivering spending cuts to meet the EU deficit target of 3% of GDP.
Longer term he is calling for reform of the eurozone's governance which would see it become a much more federal monetary zone with a banking union, a eurozone finance minister and joint bonds.
As a former investment banker and one-time socialist economy minister, he is an experienced financier and he knows both Brussels and Berlin well.
His diplomacy skills are far less well tested.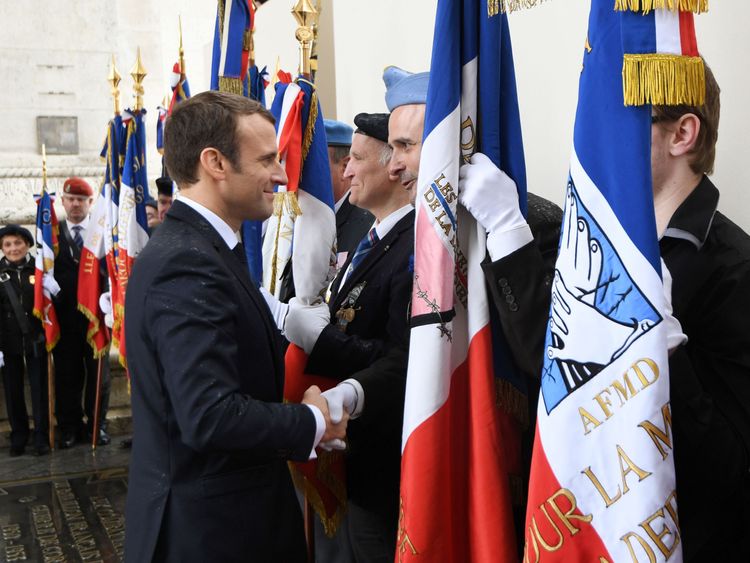 :: Fixing France
Outgoing president Francois Hollande leaves office more unpopular than any of his predecessors. Nearly half a million more people are out of work now than when he took office.
The national unemployment rate is at 10%. Youth unemployment is at 25%. The country has never properly recovered from the economic crisis of 2008.
The nation remains in a state of emergency following a series of Islamist-inspired terror attacks.
And it is an acutely divided country, with one in three voters choosing Marine Le Pen and a wholly different direction for the country. He will need to address the legitimate concerns of those voters rather than dismissing them as far-right nationalists.
"For decades France has doubted herself," Mr Macron said in the Elysee.
"It is struggling. I will give back France its confidence. It won't happen overnight. It will take time and will be a demanding job. We are suffering from the headwinds of the world."
:: The National Assembly elections
If Mr Macron is to stand any chance of achieving his bold ambitions for France, to turn around its struggling economy, to cut unemployment and to deal with deep concerns over immigration, he needs the French Parliament – the National Assembly – behind him. In short, he needs a working majority of MPs.
As things stand, he has none.
The two round National Assembly elections are in June. He says his 'Republique En Marche' movement will put forward 428 candidates for the 577 seats which are up for grabs.
In line with his pledge to refresh politics, 52% of his candidates are new to politics and have never held elected office. Half of them are women.
If he gets a working majority he is in a good place, but it remains unclear how attractive his untested candidates will be regionally. It's also not clear how many candidates from the conservative Republicans or centre-left Socialists will shift their allegiances and join him.
While the outgoing Socialists Party is in deep trouble, the centre-right Republican Party is largely in good shape, damaged only by the corruption scandal surrounding their candidate for president, Francois Fillon.
If they perform well in June, that could be problematic for Mr Macron.