The polls for the first round of voting open in just two days' time, with a third of voters in France still undecided who to vote for.
But three of the leading candidates – far-right leader Marine Le Pen, centrist Emmanuel Macron and conservative Francois Fillon – cancelled meetings on Friday amid concerns they and their supporters may be targeted in further attacks.
:: Police officer killed in Paris shooting
Ms Le Pen used the aftermath of the Champs-Elysees attack – which Islamic State has claimed it carried out – to call for the government to immediately expel foreigners being monitored by intelligence services and reinstate France's borders.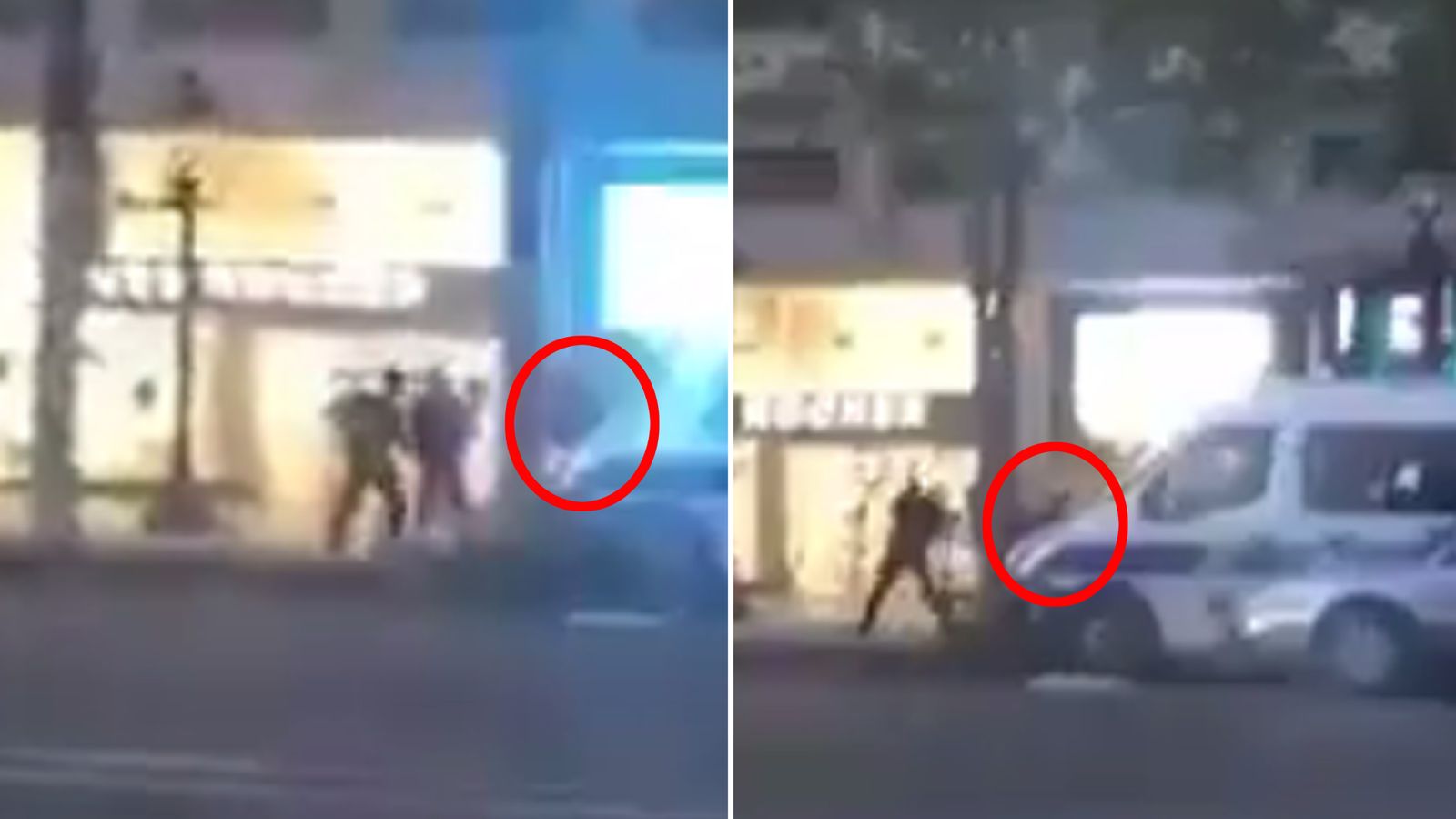 She said "a clear head and a firm grip" were required in the wake of the gun attack, saying: "It is time to stop being naive."
"Our country, France, has again known the barbarism of a terrorist attack at the very heart of our capital," she said, as she hit out at France's "so-called leaders" for failing to protect citizens.
She called for France to tackle Islamist extremism which she described as a "monstrous, totalitarian ideology that has declared war on our nation, on reason and civilisation".
But Prime Minister Bernard Cazeneuve accused her of attempting to use the shooting for political gain, saying she was "seeking, as she does after every tragedy, to take advantage of it".
Mr Macron, the front runner for the presidency, said candidates in the election should avoid one-upmanship following the attack and urged France not to "yield to fear, division and intimidation".
He told RTL radio: "What our attackers want is death, symbolism, to sow panic (and) to disturb a democratic process, which is the presidential election.
"I think we must one and all have a spirit of responsibility at this extreme time and not give in to panic and not allow it to be exploited, which some might try to do."
He added: "I've heard Madame Le Pen saying again recently that with her in charge, certain attacks would have been avoided.
"There's no such thing as zero risk. Anyone who pretends (otherwise) is both irresponsible and deceitful."
:: What we know about the Champs-Elysees gunman
Mr Fillon also pledged to protect French citizens, promising an "iron-fisted" approach.
"Some haven't taken the full measure of the evil," he said.
Masked police on top of their vehicle on the Champs-Elysees

An armed soldier secures a side road near the Champs-Elysees

Forensics officers search a car on the Champs-Elysees

Police officers block the access to the Champs-Elysees

Police vehicles seen on the Champs-Elysees, near the Arc de Triomphe

People raising their arms as they walk towards police on a side road near the Champs-Elysees

Armed police officers block the access of a street near the Champs-Elysees

An armed police officer on the Champs-Elysees

Police officers searched people in the area after the attack on the Champs-Elysees

Firefighters and rescuers stand by the site of the shooting on the Champs-Elysees

French police vehicles drive in convoy through Paris streets after the shootout

Police vehicles seen near the Eiffel Tower

Champs-Elysees is locked down in Paris after the attack on police officers

Police secure a side street

Emergency services respond to the shooting
/
Socialist candidate Benoit Hamon tweeted his "full support" for police against terrorism.
Far-left candidate Philippe Poutou blamed French politics for the deadly attack on the French capital's famous boulevard.
He accused the state of discriminating against people living in impoverished suburbs because of "their skin colour or origins", taking military action in Africa and the Middle East and selling arms to dictatorships.
The attack unfolded as the candidates were taking part in a final live televised debate on Thursday evening.
US President Donald Trump tweeted the attack "will have a big effect" on the election.
The two top finishers in Sunday's election will advance to a run-off on 7 May.