A jury found 41-year-old Melissa Robitille of Hardwick, Vermont, guilty of manslaughter. She faces up to 15 years in jail.
Robitille was charged after 13-year-old Isaac Robitille died from alcohol poisoning in 2014.
Isaac was blind, had no ears and a cleft palate.
It was alleged that Robitille was present when vodka was poured into the boy's feeding tube after the child became "fussy".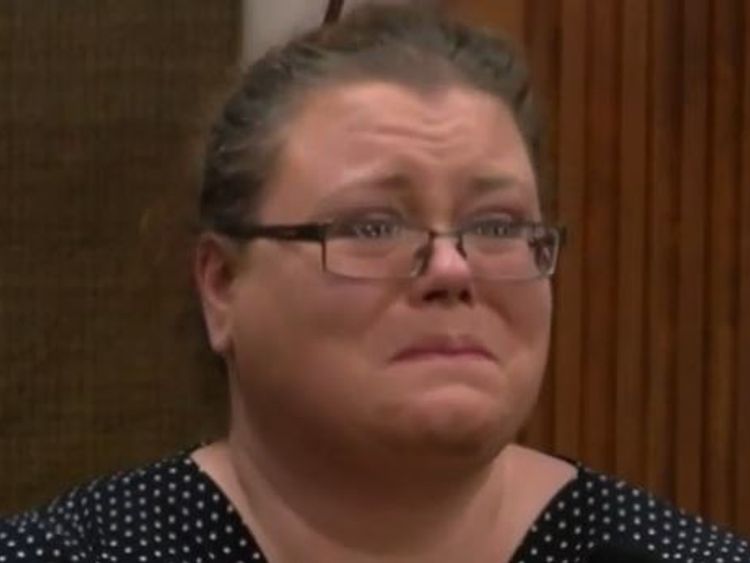 Robitillle's former boyfriend, Walter Richters, was sentenced to three years in prison last year for his role in Isaac's death.
Richters and Robitille blamed each other for putting the vodka in the tube after the boy had a tantrum.
An autopsy revealed that Isaac had twice the adult drink driving level of alcohol in his system.
Robitille told Vermont Superior Court she believed the vodka would help Isaac sleep.
WCAX-TV reported that Robitille showed no emotion when the jury returned its verdict.
Robitille has a blog online where she describes herself as an author, editor and ghostwriter.
Her Amazon page lists her as a "speculative fiction writer".
In her blog, she often wrote about Isaac, calling him "Little Man" and talking about his achievements.
"The doctors said he wouldn't live to be 6 months old," Robitille wrote in one post. "He's a delightfully happy little boy, loves math, hugs, kisses and his dog."
In January 2015, she posted that, "after finally dragging (herself) out of what was indisputably the worst year of (her) life," she had returned to freelance editing.
Robitille will be sentenced at a later date.