"They're Aya and Ahmed. Say goodbye my loves, say goodbye," Abdel Hameed al Youssef said as he cradled them while sat in a car.
At least 73 people are believed to have been killed in the attack on the town of Khan Sheikhoun on Tuesday.
Witnesses said victims choked, fainted and foamed at the mouth after the weapons were dropped.
Medical charity Medecins Sans Frontieres said it treated patients with dilated pupils, muscle spasms and involuntary defecation "consistent with exposure to neuro-toxic agents such as Sarin".
Mr Hameed al Youssef said he was with the children when the attack took place.
"I was right beside them. I took them outside with their mother. They were conscious, but 10 minutes later we could smell it and my children couldn't handle it anymore," he said.
The distraught father's wife was among several other family members killed, his cousin's wife said.
"At about half past six, we heard a very loud noise," Aya Fadel told the Associated Press news agency.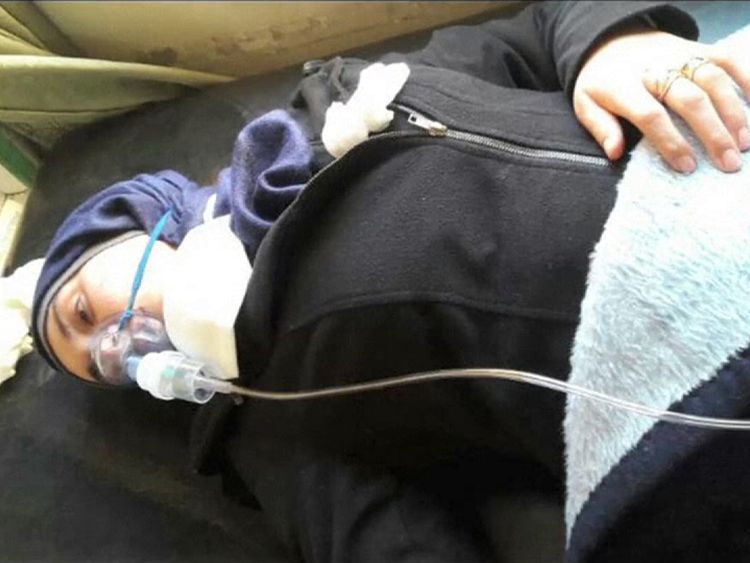 "All windows and doors were opened. We ran and ran, we couldn't do anything at that time.
"'My husband, where are you? My son, where are you my lovely son?' They were next to me but I couldn't see them. We couldn't do anything."
Mrs Fadel said many of her friends, family and neighbours were killed.
"A big lorry stopped us and told us that they had many dead people," she added.
"We immediately left the car and ran towards the lorry. We saw our relatives. All were my relatives, my friends, my neighbours. I can't believe it."
The airstrikes have been blamed on President Bashar al Assad's military, but the government has denied using chemical weapons.
Russia has said the deaths and injuries were caused when a Syrian airstrike hit a "terrorist warehouse" containing "toxic substances".
Mrs Fadel pleaded with people outside of Syria to do something to help them.
"Please don't be silent anymore. Please stop it, please save those scared children. Your silence kills us. Move, change, do anything to save Syrians. Enough is enough," she said.