Caroline Wozniacki was speaking following the announcement that Sharapova had been given a wildcard for the tournament in Stuttgart next month.
The Russian five time Grand Slam winner was given a two-year banearly last year after testing positive for meldonium.
The ban was reduced in October and is due to end on 26 April – two days after the Stuttgart tournament starts.
Sharapova, 29, will play her first game on 26 April but Wozniacki said she shouldn't be allowed to play in the competition at all.
Speaking at the BNP Paribas Open in Indian Wells, Wozniacki said: "First of all I think she's a good draw for tennis, women's tennis in general.
"But two, I think it's questionable allowing – no matter who it is – a player that is still banned to play a tournament that week.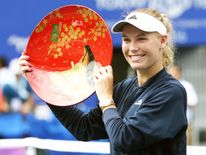 "From the tournament side I think it's disrespectful to the other players and the WTA.
"But it is what it is.
"Obviously rules are twisted and turned in favour of who wants to do what.
"I think everyone deserves a second chance and I think she's going to come back and fight her way back. I'm sure she's going to play well.
"But at the same time, I feel when a player is banned for drugs, I think someone should start from the bottom and fight their way back."
Asked to clarify her point on the Stuttgart tournament, Wozniacki said: "I think once a tournament is started and a player is banned, I don't think a player should be allowed to play that week."
:: Brand Sharapova: Highs And Lows Of Tennis Ace
Sharapova has also been given wildcards for May's tournaments in Madrid and Rome.
Andy Murray has previously said players returning from doping bans should not be given wildcards.
"I think you should really have to work your way back," Murray told The Times last week.
"But most tournaments will do what they think is best for their event.
"If they think big names will sell more seats, they're going to do that."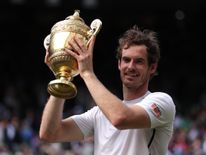 Germany's Angelique Kerber, currently ranked number two in the world, said the situation was "a little bit strange".
France's world number eight Jo-Wilfried Tsonga said: "It's like if you give a sweet to a kid who did a bad thing, it's going to do it again. It sends the wrong message."
But Romanian Simona Halep said Sharapova's return was "good for tennis", adding: "she is impatient, she wants to play and win."
Russian veteran Svetlana Kuznetsova said: "I understand, because if we talk about cheaters, people who cheat, you would say, 'Why would cheaters get a wildcard?'
"But then if there is some mistake, you know, it's a little bit of a different story."