Maybe it has got something to do with the voluminous monastery, located in the centre of town.
Perhaps it is down to the fact that Bogolyubovo means "lovers of God" in Russian – the town founder did have a sacred vision here some 860 years ago.
Whatever the reason, present day residents think this particular bit of turf is special.
Pity then a mild-mannered businessmen called Pavel Spichakov, who has been trying to turn the Bogolyubovo's Soviet-era brickworks into a brand new condom factory.
"It is ideal for manufacturing," he told me, gesturing at the dilapidated buildings.
"There's around 7,000 square metres of space indoors."
More importantly, perhaps, he has promised 200 new jobs and £40m of new investment in an area that badly needs both.
To Mr Spichakov's complete surprise, however, his business proposal went down like a lead balloon.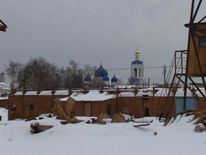 Local Russian Orthodox churchgoers took to the streets with banners reading: "Virgin Mary, help us to protect this place from dirt" and "Bogolyubovo is not Gomorrah."
A showdown was arranged at the town council office where they accused the new owner of the brick factory of being the destroyer of human life – because condoms are male abortions.
"It's abortion, it's abortion," said one protester above the general din.
Mr Spichakov replied: "What are you talking about? What kind of abortion is this?"
"Our population is declining. It's a male abortion. Condoms are male abortions," came the reply from several of his opponents.
It was a bruising encounter, but churchgoers had reason to be confident. A relatively new law protects the feelings of worshippers and in Vladimir Putin's Russia, power lies with the priests.
The president has formed a close alliance with the Orthodox Church, which helps to push his traditional, illiberal agenda particularly on social issues such as gay and women's rights, multi-culturalism and globalisation.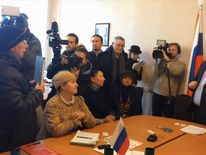 The ringleader of the Bogolyubobo uprising, Tatyana Borovikova, had her own specific way to describe her feelings.
She said: "If there is a clean well somewhere, you can't put a toilet next it because it will desecrate the water, you won't be able to drink it. It's the same with religion."
Unsurprisingly, Mr Spichakov scrapped his condom-making plan. Instead, he told us he wants to make bandages and nappies. Church members still are not happy. They told us nappies cause impotency in boys, but it looks like the businessman's new premises may finally produce something.
"For me, opening a new plant is the same thing as opening a cathedral – a human cathedral," said the embattled businessman. "Because our faith should be based on the things that we do every day."
While some people in Russia are marching in favour of the church, there have been dozens of demonstrations where participants rail against its growing influence.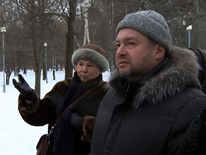 In St Petersburg, thousands have gathered in the centre to protest against a decision by the local authorities to hand back the city's grandiose cathedral, St Isaac's, to the church.
It was turned into a museum after the Russian revolution in 1917 and currently attracts some three-and-a-half million visitors a year.
Likewise, in northeast Moscow, angry residents have been protesting against plans to construct a new chapel in their local park. Every Sunday afternoon in sun, wind or blinding snow, they gather around a chain link fence and make their views known, while believers conduct an ad-hoc service on the inside.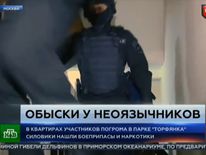 By taking on the Orthodox Church, these demonstrators are taking a risk. Twelve of them had their homes stormed by riot police recently in an operation that was broadcast on national television under the headline: "Raid on the Neo-Pagans."
What's more, their chances of success are slim because church leaders have the backing of the president and in present-day Russia, the church says that non-believers have to step aside.