Dozens of evacuation centres have been set up to take people from three counties deemed at risk if the Oroville Dam fails and floods surrounding towns and villages.
Officials have warned of a "30ft wall of water" if one of the spillways fails.
Heavy rain caused the level of Oroville Lake to rise so high that the emergency spillway was used for the first time in the dam's near 50-year history.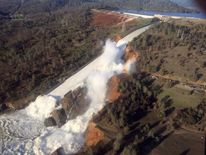 Engineers' fear that erosion around the emergency spillway could cause it to collapse.
In addition, the primary spillway in the 230m (770ft) dam has a 30ft hole that is causing it to leak and cause further erosion.
The level of the lake is now understood to have dropped, but officials are waiting until daylight before deciding whether to allow people back to their homes.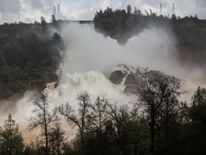 In the meantime, repair crews have been dropping boulders on to the emergency spillway to tackle the erosion that has been causing concern.
Eight helicopters have been brought in to aid with the repairs and two police spotter planes are also involved.
A notification has been issued putting all of California's 23,000 part-time National Guard soldiers and airmen on alert – the first time since the 1992 riots.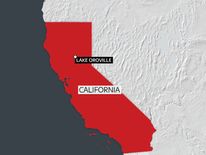 A flash flood warning is expected to remain in place until 4.15pm local time on Monday (12.15am Tuesday UK time).
Road and rail transport in the area has been affected.
The evacuation alert issued by the National Weather Service in Sacramento, 80 miles to the south, was put out at about 4.15pm on Sunday.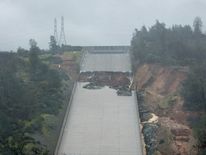 It read: "Immediate evacuation from the low levels of Oroville areas downstream is ordered. This is not a Drill. This is not a Drill. Repeat this is not a drill."
Water is continuing to pour out of the lake and down the primary spillway at a rate of tens of thousands of cubic feet a second.
The lake is one of the main sources of water for the agriculture and population in California's Central Valley.
The dam, completed in 1968, is the tallest in the US and 12m (40ft) higher than the famous Hoover Dam.