The coastal state, north of Rio de Janeiro, has seen chaos in the streets despite 1,200 soldiers being deployed to keep order.
The Brazilian Ministry of Defence has said that number will rise to as many as 3,000 by the weekend.
Most of the violence has occurred in the state capital, Vitoria.
Police claim the majority of those killed there were tied to drug trafficking or some other type of crime.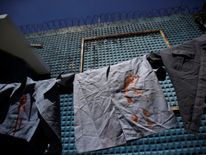 Schools and businesses have been closed and public transport frozen.
Striking police are demanding higher pay and better working conditions, and are currently in negotiations with the state government.
However, the authorities have now threatened the striking police officers with criminal charges, saying they will be charged with "rebellion".
Normally a relatively safe state, there were only four deaths due to homicide in Espirito Santo in January this year – a figure which has now skyrocketed.
Public unrest has also spread to neighbouring Rio de Janeiro, which in three weeks will become a hub for tourists as it hosts one of the world's biggest carnivals.
An economic downturn in Brazil has left many states struggling to ensure even basic health, education and security services.