The US President has imposed fresh sanctions against Tehran, including 13 people and 12 firms, after declaring it had been put "on notice" following the test firing of a ballistic missile on Sunday.
Iran is playing with fire – they don't appreciate how "kind" President Obama was to them. Not me!

— Donald J. Trump (@realDonaldTrump) February 3, 2017
Writing on Twitter a short time before unveiling the penalties, Mr Trump said: "Iran is playing with fire – they don't appreciate how 'kind' President Obama was to them. Not me!"
Iran threatened to take "retaliatory action" to the travel ban against seven majority-Muslim countries and took the step of barring US wrestlers on Friday from this month's Freestyle World Cup competition.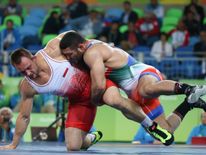 The competition, in the western Iranian city of Kermanshah, is set for 16 and 17 February and USA Wrestling had said it would send a team to the competition – one of the most prestigious in international wrestling.
:: Angelina Jolie attacks Trump's US travel ban
During his campaign, Mr Trump accused the Obama administration of being soft on Iran and he vowed to crack down if election.
Many of the sanctions imposed on Iran in response to its nuclear programme were lifted in the final two years of the Obama administration as part of a deal the brokered by the US and other world powers.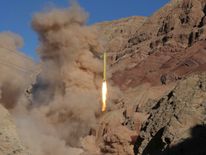 It was unclear what areas Mr Trump's administration would target, but the prospect of further sanctions raised the possibility of a fresh confrontation between the US and Iran.
The US has also accused Iran of arming and financing Houthi rebels in Yemen.
The rebels this week claimed a missile strike on a warship operated by the Saudi-led coalition fighting to reinstall Yemen's government.
The top Democrat and Republican on the Senate Foreign Relations Committee have both urged Mr Trump not to let the Iran missile test go unpunished.
But Iran reacted angrily to the threat of retaliation.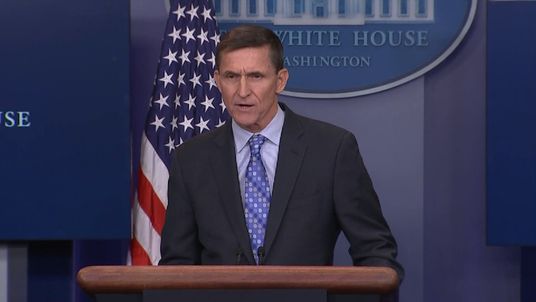 Ali Akbar Velayati, foreign adviser to supreme leader Ayatollah Ali Khamenei, warned: "The US will be the final loser."
He added: "It is not the first time that a naive person from the US poses threats to Iran."
Under the terms of the deal, Iran had agreed to roll back its nuclear programme in exchange for relief on some sanctions and there is little appetite for revising it in the international community.