Worshippers have returned to the Quebec City Islamic Cultural Centre for the first time since Sunday's mass shooting.
One of them, named only as Ahmed, was among the 50 people holding evening prayers when the shooting began.
He said he was lucky to escape.
Pointing at the bullet hole and bloodstains on the wall, he said: "He went in, when he went in, he started shooting.
"We can see the traces of the blood here. And he went back to recharge his gun, and then he came to the guy who was sitting here and started shooting one here and one there."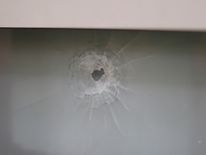 Worshipper Ali Ben Tahar was also in the mosque.
"My friend was there," he said. "He received a shot in the head. The first time I feel scared that way. When I tried to call the police, I couldn't find words.
"The first day was very hard. Each time I remember the scene, I wanted to cry."
A public funeral will be held on Thursday for the six victims.
Alexandre Bissonnette, aged 27, has been charged with six counts of first-degree murder and five counts of attempted murder.
He has briefly appeared in court, where he did not enter a plea.
The anthropology and political science student at Laval University reportedly had nationalist and right-wing sympathies.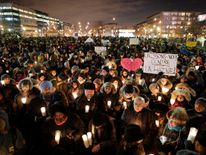 Nineteen people were injured in the attack, five of them seriously.
The mosque's vice president, Mohamed Labidi, said the victims were shot in the back and, although security was a "major concern" at the mosque, they had been "caught off guard".
Canada's Prime Minister Justin Trudeau condemned the shooting as a terrorist attack.