Centre-right candidate Mr Fillon was the favourite to win the French presidency, but he has been damaged by allegations he paid his British wife for a "fake job".
Now sources say the investigation will also include work carried out for him by his children Marie and Charles.
Mr Fillon has steadily lost ground in opinion polls since a satirical magazine first reported that the former prime minister had paid his wife Penelope €500,000 (£430,000) for work she did not appear to have done.
Le Canard Enchaine said she was paid from state funds between 1998 and 2013 for working as a parliamentary assistant but could find no evidence any work had been done.
Mr Fillon has denied all of the allegations and claimed his wife's work was real and he is a victim of a smear campaign.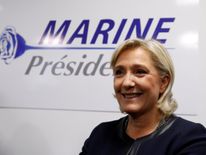 Until the allegations surfaced, Mr Fillon was the clear favourite to win the election, which takes place over two rounds in April and May.
But commentators claim the probe has landed a fatal blow to Mr Fillon after he won the party's primary on a squeaky-clean image, pledging to cut public spending and keep scandals out of politics.
He was expected to face far-right Marine Le Pen in the second round as the Socialists, who on Sunday chose left-wing Benoit Hamon as their candidate, have slumped in popularity under President Hollande.
A fourth contender, centrist independent Emmanuel Macron has been just a few percentage points behind Mr Fillon and Ms Le Pen in the polls during the last month.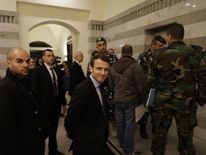 Prosecutors are not expected to decide on whether to press ahead with charges for another month.
Mr Fillon married his Welsh-born wife in her home town of Llanover in 1980 after meeting her while she was on a gap year in Le Mans, according to The Times.