Amirah Droudis had waited for Mon Haron Monis's ex-wife, before stabbing her 18 times and setting her alight.
A neighbour who witnessed the attack in west Sydney in 2013, begged her to stop before Droudis fled the scene.
The woman, who can only be identified as Helen Lee, had been lured to an apartment complex by her former husband, Mr Monis.
Despite constructing an elaborate alibi, he was described in court as the "planner and orchestrator of the murder".
A detective who worked on the case described it as "a brutal and callous crime".
She was sentenced to 44 years in prison and told she must spend a minimum of 33 years behind bars.
Droudis, who had become Sydney cafe siege gunman Monis' lover and planned to set up a family with him and his two children, showed no emotion as the sentence was handed down. She will not be eligible for parole until 2047.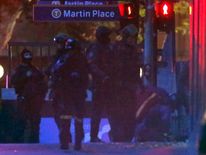 Justice Peter Johnson acknowledged that she had been repeatedly assaulted by Monis during their relationship and had adopted an "evil man's foul beliefs".
As their relationship became serious, she converted to Islam, changed her name from Anastacia to Amirah and appeared in a number of extremist videos.
In them, she praised Osama bin Laden and "described the Bali bombers as martyrs", the court was told.
Ms Droudis, 37, had denied murder, claiming she had been at her parents' house, but was convicted after a judge-only trial last year.
In December 2014, Monis took 18 people hostage at the Lindt Cafe in central Sydney, held them for more than 16 hours and claimed to have a bomb.
The siege was ended when police stormed the building after Monis executed one of the hostages, the cafe's manager, Tori Johnson.
Monis was killed in the raid, along with another hostage, Katrina Dawson, who was accidentally shot by officers.
A friend of Ms Lee, known as Sonia, said she was overjoyed by the sentence.
"I was expecting life but I'm happy with that number. I will never forget my best friend. She was amazing. She would do anything for anyone."