In the post, Renee Wetzel, of Lake Arrowhead, California, holds up a handwritten sign which reads: "My husband was murdered in the San Bernardino terrorist attack by radicalized Islamic terrorists. I do not support Trump's immigration freeze. #ChooseLove."
Her husband, Michael, 37, was one of the 14 people killed during the attack at the Inland Regional Center in December 2015.
The image has been shared more than 17,000 times on Facebook.
President Trump's executive order, issued on 27 January, suspended the arrival of any refugees and imposed tough new controls – dubbed "extreme vetting" – on immigrants from seven Muslim majority countries.
Supporters of the ban have cited the San Bernardino attack as justification for the order, which has sparked protests in the US and worldwide and led to Mr Trump firing acting attorney general Sally Yates after she told Justice Department lawyers not to enforce it.
Under the terms of the ban, the entire US refugee resettlement programme has been suspended for at least 120 days while tough new vetting rules of applicants' backgrounds are established.
It specifically bars Syrian refugees indefinitely from entry to the US. No visas will also be issued for 90 days to migrants or visitors from Iran, Iraq, Libya, Somalia, Sudan, Syria and Yemen.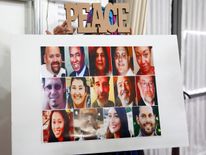 Syed Rizwan Farook, a US citizen, and his Pakistan-born wife Tashfeen Malik carried out the San Bernardino attack during a holiday party for the city's Environmental Health Department. They were said to have been inspired by Islamic State.
After the shooting, the couple seemingly drove at random around the city, before they were spotted returning home and were killed in a gun battle.
Mr Wetzel was an environmental health supervisor for San Bernardino County.
Last year, his widow filed claims against the county seeking damages totalling $58m (£46m) on the grounds that his death was the result of negligence on the part of the county.