United pipped Real Madrid and Barcelona – but experts are predicting the pound's fall against the euro could see them fall behind the Spanish giants again next year.
United became the first club to achieve a turnover of more than £500m in 2015/16, while Real, who had topped the list for the last 11 years, slipped to third – just £100,000 behind their Catalan rivals.
The Old Trafford club got a boost from record-breaking kit and sponsorship deals with Adidas and Chevrolet and a return to the Champions League during the otherwise underwhelming reign of Dutch manager Louis van Gaal.
The Deloitte study is in its 20th year and this year's top three is the same as in the first edition in 1997.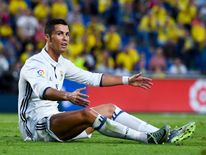 The report's author Tim Bridge said: "You can't really look past Manchester United returning to the top spot and it is

because of their ability to make commercial deals that are way ahead of their peers."
Eight English clubs made the top 20 – including new entries West Ham and surprise Premier League champions Leicester City.
More English sides are expected to break into the higher echelons from next year – when the Premier League's £5bn domestic TV deal is taken into account.
But Mr Bridge warned the uncertainties of the Brexit era could hamper their earning power.
Figures in this year's report were based on an average exchange rate of £1 = €1.34 but the current inter-bank rate is £1 = €1.15.
UEFA last week warned that elite clubs were pulling further away from smaller rivals financially.
The governing body's president Aleksander Ceferin said the game would need to address an "increasing concentration of sponsorship and commercial revenue among a handful of clubs".
The top 20:
1. Manchester United £515.3m

2. Barcelona £463.8m

3. Real Madrid £463.8m

4. Bayern Munich £442.7m

5. Manchester City £392.6m

6. Paris St-Germain £389.6m

7. Arsenal £350.4m

8. Chelsea £334.6m

9. Liverpool £302m

10. Juventus £255.1m

11. Borussia Dortmund £212.3m

12. Tottenham £209.2m

13. Atletico Madrid £171m

14. Schalke £167.9m

15. AS Roma £163.2m

16. AC Milan £160.6m

17. Zenit St Petersburg

18. West Ham £143.8m

19. Inter Milan £134m

20. Leicester £128.7m