Russian foreign minister Sergei Lavrov hit out at Christopher Steele, who has been named as the author of the dossier containing explosive claims about the President-elect.
Mr Lavrov also said allegations of Russian cyber attacks were fabricated, amid allegations from the United States that Moscow tried to influence November's US election.
The minister told a press conference that US intelligence agencies who had tried to prove Mr Trump had links to Russia have drawn a blank and should be fired.
Mr Trump, who will be sworn in on Friday, has dismissed the dossier, saying it was "made up" and based on "phony facts".
Moscow said the claims were "fake" and had been whipped up to damage Russian ties with Washington.
The dossier:
:: Was commissioned by a Washington firm on behalf of Mr Trump's political opponents
:: Looks at alleged ties between the Trump campaign and Russia, claiming the Kremlin cultivated and supported Mr Trump for at least five years, also feeding him intelligence on political rivals including Hillary Clinton
:: Claims Russia had gathered embarrassing allegations against Mr Trump during a visit to Moscow years ago, which could be used to blackmail him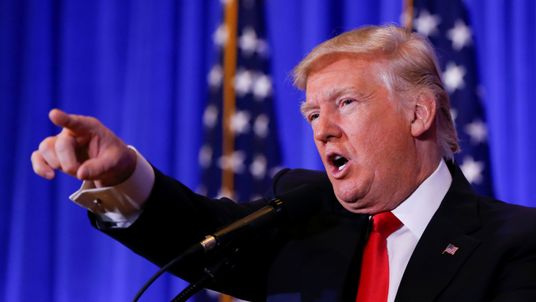 Sky News has not been able to verify the authenticity or veracity of the dossier and is unable to substantiate the claims made within it.
One of the key questions about Mr Trump's upcoming presidency is how he will handle relations with Russia, which have hit lows reminiscent of the Cold War under Barack Obama.
Mr Lavrov said Moscow is hopeful of better relations with the US based on respect for mutual interests once Mr Trump is inaugurated, in contrast with the "messianic" approach of Mr Obama.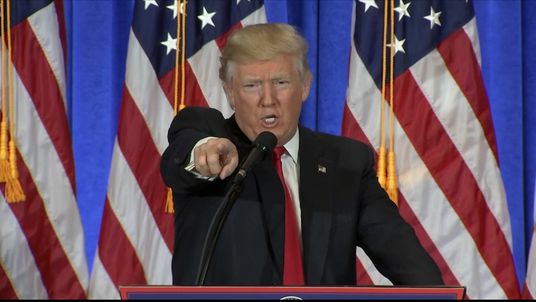 He said Russia expects to have a dialogue with Mr Trump on nuclear weapons, which could include hypersonic weapons, a US missile shield in Europe, space weapons and nuclear testing.
Mr Lavrov said he would like to see Mr Trump's team made up of pragmatic people "who will not engage in moralising and will try to understand the interests of their partners just as they clearly uphold their own interests".
:: Watch live coverage of the inauguration on Sky News from 3pm and Sky Atlantic from 4pm on 20 January. Adam Boulton is in the US presenting a special Sky News programme – Trump: America's President – every day at midnight from now until Friday.
Read more:

:: CIA boss John Brennan says Trump does not understand Russia

:: Will Trump spell the end of two-state solution?

:: The world according to Trump: 14 burning issues

:: Your guide to Donald Trump's inauguration

:: What date is Trump's inauguration and when does he become President?