Pumping their fists in the air they filled Kim Il-Sung square chanting "long live comrade Kim Jong-un" and other communist slogans.
They also held banners proclaiming "let us accelerate the victorious advances of socialism!".
A party official was quoted by state media KCNA as saying: "The people should regard Kim Jong-un's New Year address as a motto of life and struggle."
Mr Kim used his 30-minute televised New Year's message to boast that his country was in the final stages of developing a long-range nuclear missile.
It prompted US President-elect Donald Trump to tweet: "It won't happen", but at least one senior US diplomat believes North Korea poses a real threat.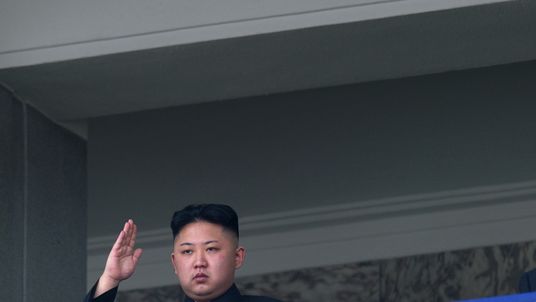 :: South Korea's strike force moves closer to Kim Jong-un elimination plan
After a meeting with officials from South Korea and Japan, US Deputy Secretary of State Antony Blinken said North Korea had conducted nuclear and missile tests with new intensity during 2016.
"They apply what they have learned to their technology and to the next test, and in our assessment we have seen a qualitative improvement in their capabilities over the past year as a result of this unprecedented level of activity," he said.
North Korean leader Kim Jong-Un visits a newly built bag factory in capital city Pyongyang

The reclusive state is known for releasing pictures of the dictator touring unusual sites, including a lubricant factory and a tree nursery in recent years

The leader likes to be seen visiting local workers

This time round, he was looking at children's bags

It comes after he used his New Year's message to say his country is in the 'final stages' of developing a long-range missile
/
North Korea carried out two nuclear tests last year and more than two dozen ballistic missile launches.
But analysts are divided over how close Pyongyang is to being able to launch a weapon powerful enough to reach US soil, as it has never successfully test-fired an intercontinental nuclear missile.
Mr Kim also admitted to some shortcomings in his New Year speech and promised to make North Korea prosperous again.
He later visited a newly built bag factory in Pyongyang.