The governor of Monte Cristo prison in Boa Vista said two rival gangs were involved in violent clashes overnight.
Special forces were deployed and order has now been restored.
Uziel de Castro, the head of security for Roraima state, blamed Friday's violence on the Sao Paulo-based First Capital Command (PCC) drug gang, the Estado de S. Paulo newspaper reported. 
It is the second major jail disturbance in the country this week.
Some 56 inmates were killed during another fight at a prison in Manaus on Sunday.
The riot at the Anisio Jobim jail was also sparked by a fight between rival drug gangs.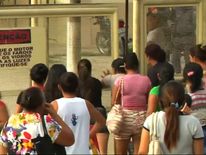 Most of the dead in the weekend riot belonged to the PCC – Brazil's most powerful drug gang – and were killed by members of the North Family, which is believed to dominate the traffic of cocaine from Colombia and Peru to the region.
The decapitated bodies of some of those killed were reportedly thrown over the prison wall.
Inmates exchanged fire with police and 12 prison guards were taken hostage, while some 74 prisoners held hostage were either executed or released.
The North Family is widely believed to be attacking PCC inmates on the orders of the Rio de Janeiro-based Red Command, Brazil's second largest drug gang.
It is believed gangs are fighting for control of drug routes in northern Brazil, which borders Colombia, Venezuela, Peru and The Guianas.
The Monte Cristo prison currently has 1,475 prisoners detained – almost double its capacity of 750.