Sergeant Elor Azaria, 20, shot Abdul Fattah al-Sharif in the head in the West Bank city of Hebron in March 2016.
At the time, al-Sharif was lying on the ground after being shot by other soldiers while he carried out a stabbing attack.
Footage of the incident appeared to show the Palestinian motionless.
Lawyers for Azaria claimed he shot al-Sharif because he believed the man had a hidden bomb.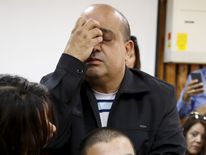 But Judge Colonel Maya Heller said Azaria had no reason to open fire and called his testimony "evolving and evasive".
She added: "The fact that the man on the ground was a terrorist does not justify a disproportionate response."
Azaria, who will be sentenced at a later date, faces up to 20 years in prison.
More follows…