A special edition of the Legion d'Honneur has been announced for those who tried to halt the atrocity and those who helped the injured.
Franck Terrier rode his scooter alongside the truck, grabbing the side of the cab and punching the driver several times through the open window to stop him smashing into more people.
"I was ready to die," he said at the time.
He told French media: "I remember the bodies flying everywhere… My wife pulled my arm and asked me where I was going. I stopped. I said, stay back! And I accelerated."
And he also told how he had to slalom among the dead and injured to catch up with the lorry. "I wanted to stop him at all costs," he said.
Another man, Alexandre Nigues, chased the truck on his bicycle and tried to wrench open the driver's door as the huge vehicle barrelled through the Bastille Day crowds.
He told how the driver, still with his foot on the accelerator, pointed the gun at him and looked him in the eye.
Mr Nigues will also receive the Legion d'Honneur for his bravery – as will two police officers who ran after the lorry and shot the driver dead.
The state said the officers were being named Guardians of the Peace for "chasing on foot, and neutralising the lorry driver with the help of their weapons, and while risking their lives".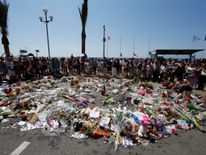 Several doctors and firefighters will receive the national order of merit – the country's second highest award – for their work with those who were hurt when Tunisian extremist Lahouaiej Bouhel, 31, targeted the crowds after evening fireworks.
He killed 86 people and left another 400 injured in the attack, for which Islamic State claimed responsibility – although they have never provided evidence of Bouhel's affiliation with them.
The Nice attack was the first terror atrocity of its kind and was followed last month by a copycat attack on a Christmas market in Berlin, in which 12 people died.