Russian Air Force spokesman Sergei Bainetov said it was "up to the experts" to work out why the faults occurred on the Tu-154 which plunged into the sea on Sunday.
He said flight recorder data showed there had been no fire or explosion prior to the crash, which claimed 92 lives.
Lt Gen Bainetov added that audio from a cockpit conversation recorder indicated a "special situation" unfolded on the plane.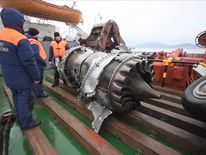 Investigators have not ruled a terror attack and are also looking at the possibility that a technical problem or human error caused the plane to come down.
Russia's security agency has previously said it had "no indications or facts pointing at the possibility of a terror attack or an act of sabotage".
Search and rescue workers have recovered 19 bodies and approximately 230 body fragments, while more than 2,000 pieces of the jet have been pulled from the seabed.
Among those who died were dozens of singers in Russia's world-famous military choir who were on their way to Syria to entertain troops.
Russia has grounded all its Tu-154 jets until it is known what brought down the aircraft.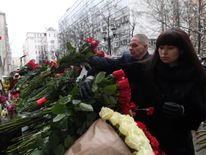 The Russian defence ministry said the plane that crashed was built in 1983 and underwent factory check-ups and maintenance in 2014.
Investigators have taken samples from a fuel tank used to fill the plane, which flew from Moscow's Chkalovsky military airport and stopped for refuelling in Sochi.
It crashed just 70 seconds after takeoff, from an altitude of 250 metres.
At the time it was travelling at more than 224 miles per hour, Mr Bainetov said.