The US President-elect said on Twitter that the UN had "such great potential", but had become "just a club for people to get together, talk and have a good time. So sad!".
On Friday, Mr Trump, who takes office in just over three weeks, warned: "As to the UN, things will be different after January 20th."
The decision by the Obama administration to abstain from Friday's UN vote brushed aside Mr Trump's demands that the US exercise its Security Council veto and provided a climax to years of icy relations with Israel's leadership.
The United Nations has such great potential but right now it is just a club for people to get together, talk and have a good time. So sad!

— Donald J. Trump (@realDonaldTrump) December 26, 2016
Mr Trump said last December that he wanted to be "very neutral" on Israel-Palestinian issues.
But his tone became decidedly more pro-Israel as the presidential campaign progressed.
He has spoken disparagingly of Palestinians, saying they have been "taken over" by or are condoning militant groups.
His tweet on Monday about the UN ignores much of the work that goes on in the 193-member organisation.
This year the Security Council has approved more than 70 legally binding resolutions, including new sanctions on North Korea and measures tackling conflicts and authorising the UN's far-flung peacekeeping operations around the world.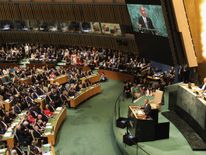 The General Assembly has also approved dozens of resolutions on issues like the role of diamonds in fuelling conflicts, condemned human rights abuses in Iran and North Korea and authorised an investigation of alleged war crimes in Syria.
But Mr Trump's criticism of the UN is by no means unique. While the organisation does engage in large-scale humanitarian and peacekeeping efforts, its massive bureaucracy has long been a source of controversy.
It has been accused by some Western governments of being inefficient, while developing nations have said it is overly influenced by wealthier countires.