The invite to Rubi Ibarra's "quinceanera", as it is known in Mexico, was widely circulated on Facebook, with 1.3 million users declaring their intention to attend.
"Hi, how's it going? We would like to invite you this December 26 to our daughter Rubi Ibarra Garcia's 15th birthday party in La Joya," Crescencio Ibarra said in the invitation.
He went on to list the names of the bands that would play and announced a horse race with a 10,000-peso prize (£395).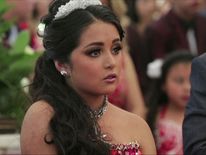 Local authorities had to relocate the event from La Joya, which is a tiny village near the city of San Luis Potosi with a population of about 200.
The party resembled a music festival, as it had to be held in a large field to accommodate a stage, a giant screen and fireworks.
Both Rubi and her father have now assumed celebrity status and are in high demand for interviews.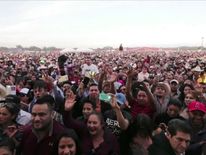 A local airline offered discount tickets to those wishing to attend what the media dubbed "the party of the year", while a video game emerged featuring a computer generated Rubi.
But not everyone was happy. Mercedes Poire, head of the Center for Public Opinion at the Universidad Del Valle de Mexico, said: "We face the gigantic risk of falling into a society of the absurd." 
Even Rubi's father was later heard to admit: "This all got out of control."