Moussa Saha and Ahmed Ali, wearing bulletproof vests, both entered not guilty pleas as they appeared in court on Sunday.
The pair are accused of seizing the Afriqiyah Airways flight armed with fake guns and a fake grenade on Friday.
They gave themselves up after an hours-long standoff at Valletta airport following negotiations in which passengers and some crew were allowed off the plane.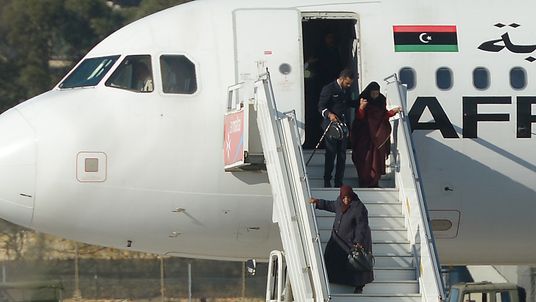 Both men also face charges including possession of imitation weapons, using violence against a person on a flight, holding people against their will, making threats of violence and attempting to cause financial or economic instability to a government.
They face up to life in prison if convicted.
Afriqiyah Airways said the alleged hijackers wanted to go to Rome, but were forced to land in Malta due to fuel limitations.
The Maltese prime minister, Joseph Muscat, said the weapons found were replicas.
The Airbus A320, with 111 passengers and six crew on board, was travelling from Sabha, in Libya, to the capital Tripoli when it was forced to fly to Malta.
Passengers were later transferred to Tripoli on a different aircraft.