In his traditional Urbi et Orbi (to the city and to the world) Christmas address at the Vatican, the Pope said "far too much blood has been spilled".
He pressed the international community to find a negotiated solution to the war as he highlighted the suffering of the Syrian people – especially those witnessing the "most awful battles" in Aleppo.
"It is time for weapons to be still forever in Syria, so that civil co-existence can be restored in the country," he said.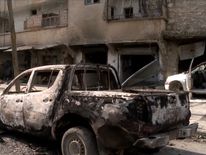 A crowd of around 40,000 people gathered in St Peter's Square to hear the Pope making the fourth Christmas address since he was elected in 2013.
Francis also wished Christmas peace for those who have lost loved ones to the terrorism that is spreading "fear and death into the hearts of so many countries and cities".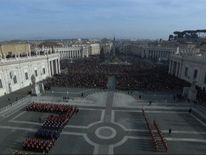 The pontiff also had words for the Israelis and Palestinians, urging them show courage and to put aside hate and revenge and "write a new page of history".
There has been renewed tension between the two sides after a UN resolution condemning Israeli settlements on disputed land.
Francis also said Christmas should inspire everyone to help the less fortunate, including migrants and refugees.
"Peace to the peoples who suffer because of the economic ambitions of the few, because of the sheer greed and the idolatry of money, which leads to slavery," he said.
Security was tight in Rome and the Vatican, after police in Milan shot dead the man responsible for the Berlin truck attack. 
In his Christmas Eve homily, the Pope warned that Christmas had been "taken hostage" by materialism.