A spokesman for Germany's chief federal prosecutor denied reports in Bild that four people who were in contact with Tunisian Anis Amri have been arrested.
Amri, an asylum seeker who was known to police, is suspected of being at the wheel of a hijacked 25-tonne lorry which ploughed into a crowd of shoppers at a busy Christmas market.
On Thursday, German media reported that fingerprints belonging to Amri have been found on the door of the lorry.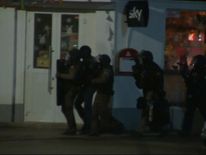 :: Trump – Attacks in Berlin and Ankara prove I was right on Muslim ban
German officials said the 24-year-old came to their attention in March after a tip-off that he might be planning a robbery to raise money for automatic weapons to use in an attack.
They followed him until September, when it was decided there was no evidence to back up the original suspicions.
Rainer Wendt, the head of a union representing German police, said civilians are "rightly outraged and anxious that such a person can walk around here, keep changing his identity and the legal system can't cope with them".
Meanwhile, German newspaper Der Spiegel criticised authorities who "had (Amri) in their crosshairs and he still managed to vanish".
On Wednesday, it was reported that police searched a refugee centre in Emmerich, west Germany, where Amri stayed a few months ago, as well as two apartments in Berlin.
:: Berlin attack suspect's family: 'Turn yourself in'
Prosecutors have warned that the suspect could be armed and have offered a €100,000 (£84,000) reward for information leading to his arrest.
Twelve people were killed and 48 others injured in Monday evening's attack, which has been claimed by the Islamic State terrorist group.
:: Sky Views – Trump's terror comments exploit fears
It emerged on Thursday that two British nationals suffered minor injuries.
A spokesman for the Foreign and Commonwealth Office (FCO) said: "Earlier today, German officials informed us that two British nationals had received medical attention for shock and minor injuries and were discharged a short time later.
"We stand ready to provide assistance to any more British nationals caught up in the attack."
Amri is described as being 5ft 8in tall, with black hair and brown eyes.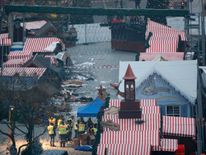 He is thought to have used six different aliases and three different nationalities.
The Christmas market in Berlin reopened on Thursday ringed by concrete bollards, although the section where the truck hit was kept bare.