In a statement, Calgary Zoo said the Humboldt penguins were discovered in the back holding area of its "Penguin Plunge" exhibit.
The zoo's director of animal care, Jamie Dorgan, said it is not known what caused the deaths. 
He said: "This is devastating news. 
"We have launched a full investigation so we can try to understand what happened and prevent further incidents like this from happening again."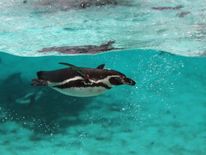 The zoo's veterinary team completed autopsies on the penguins, which were aged between six months and seven years, to determine their cause of death.
"Some event caused this mass mortality and it would have been some event that happened in that (back holding) room, we just don't know what that is," Mr Dorgan told CTV News. 
"Based on what we're seeing, we're very sure they drowned, it's just whether there were other contributing factors that may have led to that."
He added: "We don't know why…they would have inhaled a bunch of water and for whatever reason drowned."
There were a total of 22 birds within the Humboldt colony, along with three other species of penguin in the exhibit.
In recent years a number of animals have died at Calgary Zoo in mysterious circumstances.
In 2013, a penguin died in what was described as a "freak accident" after it swallowed a stick that was nearly a foot long.
Meanwhile, earlier this year an otter drowned after getting tangled up in a pair of pants it was given by a zookeeper.
Colleen Baird, the zoo's curator, called the incident "simply unacceptable".