Tourism minister Derek Hanekom, health minister Aaron Motsoaledi and public works minister Thulas Nxesi have all called for Mr Zuma to go, the News24 news agency said, citing ANC party sources.  
Mr Hanekom has also proposed a no confidence vote, reported Afrikaans-language daily newspaper, Beeld.
A weekend meeting of the ruling ANC's National Executive Committee (NEC) in Pretoria has been extended into Monday amid debate about the 74-year-old president's future. 
Earlier this month, Mr Zuma was caught up in new allegations of corruption, after a watchdog looked into his relationship with a wealthy business family, the Guptas.  
Mr Zuma has denied any wrongdoing.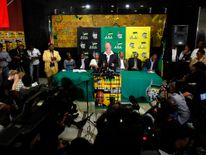 Earlier this year, the highest court in South Africa found him guilty of violating the constitution after he refused to repay taxpayers' money used to refurbish a private residence.    
In addition, he is fighting a court order that could reinstate almost 800 corruption charges against him, relating to a multi-billion dollar arms deal in the 1990s.  
The NEC, which has 104 members including Mr Zuma, is the only ANC body that can remove the party leader, apart from its five-yearly congress. 
A senior ANC official told Reuters that Mr Zuma would probably survive an attempt to remove him. 
"Even if there's (a) secret ballot, he's still likely to get the numbers," the official said. 
The ANC did not say why the meeting had been extended.