Tatiana Navka, who is the wife of Vladimir Putin's spokesman, and her skating partner Andrey Burkovsky were appearing on a show called Ice Age, Russian TV's equivalent to Dancing on Ice.
During the performance, the duo wore striped pyjama-style outfits with yellow stars as they danced to music from Life is Beautiful, a film about the Holocaust.
The song Beautiful That Way, by Jewish Israeli singer Achinoam 'Noa' Nini, features in the 1997 Oscar-winning film which is about a Jewish man's attempts to shield his son from the horrors of wartime internment.
The appearance of the skaters appeared to have been exaggerated by the use of stark lighting and make-up that made them appear gaunt and malnourished.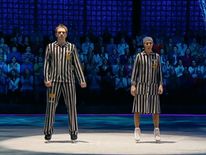 A number of prominent Jewish personalities, including American comedian Sarah Silverman and American historian Deborah Lipstadt, as well as hundreds of other Twitter users expressed outrage.
Silverman wrote: "Oh those whacky Holocaust victims (OH MY GOD OH MY GOD OH MY GOD)."
Many felt the routine was an inappropriate take on Jewish suffering during World War Two.
Others replied directly to Navka's Instagram post that featured photos of the routine.
Navka wrote: "Based on one of my favourite movies. Life is Beautiful. Show this movie to your children. Our children need to know and remember that terrible time, which I hope, God willing, they will never know!"
One social media user blueeyedwondergirl responded: "Tasteless. Not classy, artistic, or clever in any way shape or form"
Another, zhenka7806, replied in Russian: "What can I say? No brains… (People) need to tell their children about the Holocaust and not to dance!"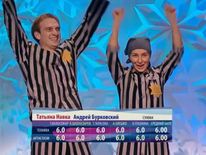 Navka, the wife of Mr Putin's press secretary Dmitry Peskov, took Olympic gold with her then partner Roman Kostomarov at the 2006 Winter Olympics in Turin, Italy. 
Burkovsky is a theatre and TV actor in Russia.