They talk of a populist wave sweeping France, selecting Francois Fillon on a xenophobic, nationalist and populist ticket as the centre-right candidate for president. 
It all makes for good headlines but it's hardly accurate.
While it's true that, like all politicians on the campaign trail, Monsieur Fillon has honed his speeches to appeal to specific audiences, he's no populist and no Donald Trump. 
To start with, he is a career politician; he was France's youngest when he became an MP at 27 back in 1981. 
He was Prime Minister between 2007 and 2012 under the unpopular presidency of Nicholas Sarkozy.
Some would see that as giving him experience but plenty see it as baggage. He's by no means a fresh face for politics in France. 
He knows that he probably doesn't need to worry about a hard fight with a left wing candidate in the presidential election next year.
The incumbent socialist government of Francois Hollande is deeply unpopular and unlikely to make the presidential runoff.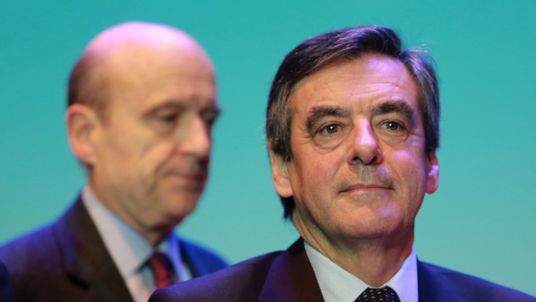 The person he needs to beat is Le Front National's Marine Le Pen.
To appeal to her far-right supporters, he's nudged himself to the right with, as his success shows, great effect. 
"We have got to reduce immigration to its strict minimum… Our country is not a sum of communities, it is an identity," he said last week.  
He's hardline on radical Islam which he says is "totalitarianism like the Nazis".
Yet the detail of his policies on how to deal with the rise of Islamism is more thoughtful and nuanced than those of the far-right. 
His emergence as the centre-right candidate presents Marine Le Pen with a problem.  
She knows that he's likely to attract many who may have thought, reluctantly, that her party was the only answer and now see him as the viable right-wing alternative. 
Elderly right-wing voters will find him particularly appealing. They'll remember what the Front National stood for under her father, Jean-Marie Le Pen.  
Between 1972 and 2011 he led an overtly racist party. Since taking charge, his daughter has tried to reform it as more moderate, more palatable, more electable. 
To counter that, Monsieur Fillon has made populist, some might even say xenophobic, noises.
No doubt he'll continue to do so. But he can hardly be called a populist. 
He is a conservative, a Catholic and an admirer of Margaret Thatcher.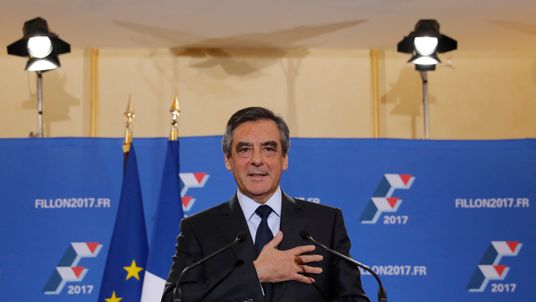 If elected president he has promised to deliver a "radical shock" for France.
He'll make sweeping public sector reforms and cuts to public services. He'll slash some 500,000 jobs in the civil service. 
It's his pragmatic fix for the French economy; hardly popular and it could push some back towards the far-right. 
I'd say there are only two real comparisons with Donald Trump. Firstly, the failure by the pollsters and the media to identify Fillon's popularity – he was "Mr Nobody" just three weeks ago.  
The other similarity is Russia. Mr Trump likes President Putin and so does Monsieur Fillon.
The two were Prime Ministers together and grew to know each other well. Francois Fillon has promised a rapprochement with Russia that's at odds with much of Europe. 
And the one thing you didn't know about him? He has a Welsh wife. Penelope Fillon (nee Clarke) is from a small village outside Abergavenny.   
She met her man on a gap year in France in the 70s. It's said he made regular trips back across the channel in an effort to woo her.
It worked, not only for her but for her sister who later married Francois Fillon's brother. 
Perhaps the deep family connections to Britain will help with Brexit. He'll need to win the presidency first though. 
"Will he make a good president?" – I asked Madame Fillon at the victory party.  
"Ah ha. If he gets there." she said.
She knows it'll be a brutal fight.