The 43-year-old, who has not yet been publicly identified, had been with her husband hiking in the scenic Levada do Norte.
The woman, believed to have been living with him in Austria, died at the scene at around 11.30am on Saturday, according to local media.
Levadas, the Portuguese name given to the channels that provide water to the island's remote areas, have walking paths that run for more than 1,300 miles.
Some of the paths have narrow ledges that have started to crumble and concerns have been raised about their safety.
On the Facebook page for local TV channel RTP Madeira, one person commented: "I've done that route but it's dangerous!
"You don't have protections.
"The regional government should put balconies at least in areas with chasms,  throughout this journey, urgently."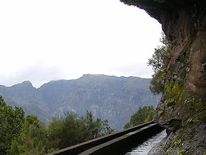 Another said the manner of the woman's death was "a disgrace to the wood", adding: "Every year tourists die…
"Our main tourism is tourism of hiking.
"We invest very little in security."
The woman is not the first to die on the trails.
A German tourist thought to be aged in his 60s fell 90m near the island's capital Funchal in March, according to local media.
Another German, 62, died in November last year after a fall on the same walk.
In March 2013, a Briton died after falling from another levada near Funchal and, in December 2009, a 29-year-old British woman died on the Levada Nova.
In June 2008, following the death of a 61-year-old Belgian woman on one of the levadas, a poster in TripAdvisor wrote: "Please, people, do not attempt trying to do any of these walks on your own.
"I don't think one's life is worth the risk. You are far better off spending a little more and doing the walks under professional supervision.
"There are plenty of qualified companies to choose from that will take you out to a number of different walks all over the island, with a qualified guide. As the saying goes 'rather safe than sorry'."