Eleven people were on board the Francie when it was reported missing in the Kaipara Harbour area of the country's North Island.
Weather conditions were poor and the area has a dangerous sandbar known to be one of the most difficult to navigate in New Zealand.
One person described the waters as "confused" and said skippers are expected to notify the Coastguard when entering or leaving.
Rescue crews managed to pull three people from the sea and winch them to safety by helicopter. They are being treated at a nearby hospital.
Six of the dead are of Pacific Island ethnicity, police said, with four from Tonga, one from Samoa and one from the Cook Islands.
The other man who died was the skipper William McNatty. 
Officers said the group were men who were all friends and enjoyed going fishing "from time to time".
It is not known if other vessels were in the water at the time and the search and rescue operation is due to recommence after being stalled overnight.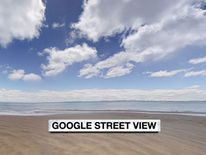 It is not known how those on board ended up in the water.
The Francie's ex-captain has described the vessel as "a flaming good little boat" but he added that the weather was too rough for it to have been at sea.
Speaking about the weather and how he had cancelled his own trip, Rod Bridge told the Herald: "I stayed home, I'm not stupid… the wind was coming up and the swell was coming up. You wouldn't go out over the bar."
Kaipara Harbour's shifting sandbars, which obstruct the route out to the Tasman Sea, are known as 'the graveyard' and are thought to have claimed up to 110 ships.