Tributes have been paid by co-stars and friends of the actress, who rose to fame in the popular TV show.
Henderson died on Thursday at Cedars-Sinai Medical Center in Los Angeles surrounded by her four children.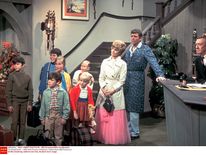 She had been taken to hospital the day before after suffering heart failure.
Born in Indiana in 1934, Henderson began her acting career began at age of 17, when she enrolled in the American Academy of Dramatic Arts in New York.
She made it to Broadway a year later, with a small part in the musical Wish You Were Here, followed by her breakout role as the lead in the musical Oklahoma!. 
But television stardom would only come years later when she landed the role that made her a household name.
The Brady Bunch, which premiered in 1969, was a series about a woman with three daughters who married a widower with three sons.
"It represents what people always wanted: a loving family. It's such a gentle, innocent, sweet show, and I guess it proved there's always an audience for that," Henderson said in 1999.
The show ran for five seasons until 1974 but is still in syndication.
Henderson stared in several spin-offs of the show after it ended, including The Brady Bride in 1981 and The Bradys in 1990 – as well as several movies.
"We had to have security guards with us. Fans were hanging on our doors. We couldn't go out by ourselves. We were like the Beatles!" she said of the attention the show brought the cast.
Among those to pay tribute to the actress was her Brady Bunch co-star Maureen McCormick, who played Marcia in the show.
She wrote on social media "You are in my heart forever".
Musician "Weird Al" Yankovic wrote: "So sad to hear of the passing of the great Florence Henderson. It was a true honour to have known and worked with her".
Florence Henderson was a doll and a dame and funny as hell. RIP

— Michael McKean (@MJMcKean) November 25, 2016
"Florence Henderson was a doll and a dame and funny as hell," wrote Michael McKean who played Lenny Konowski in another 70s sitcom Laverne and Shirley.
Seinfeld star Jason Alexander wrote: "You were a light".
Henderson married theatre executive Ira Bernstein in 1956 and the couple had four children.
They divorced after 29 years, when Henderson married her second husband John Kappas.
Kappas died in 2002.
She is survived by her four children and five grandchildren.