Tens of thousands of people have been evacuated from their homes in Haifa and other parts of central and northern Israel, while some houses near Jerusalem and in the West Bank are also at risk.
People are taking shelter in sports halls and other municipal buildings.
The country's most senior police officer has said politically motivated arson may be behind some of the fires.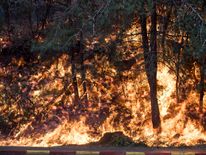 Police Chief Roni Alsheich said: "It's likely that where it was arson, it goes in the direction of nationalistic," before adding that he did not want to "disturb the investigation".
Meanwhile, some Israeli politicians have implied the fires were started deliberately by Palestinians as an act of terror against Israel, although no material evidence has been offered to back up the allegations.
The fires, which are threatening to engulf Haifa, a city with a population of around 300,000, started on Tuesday and have dramatically intensified over the last few hours.
The government has appealed for help from its neighbours.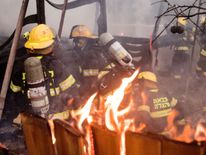 Several aircraft capable of dropping retardant have already arrived in the country from as far afield as Greece, Cyprus, Turkey and Russia.
The fires have managed to spread rapidly thanks to strong winds and a lack of wet weather over the last few months.
Forests and woodlands across Israel are bone dry and forecasters say it is likely to stay that way for some time, with no rain expected in the coming week.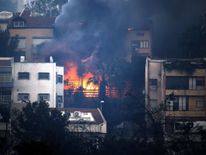 The next 24 hours will be crucial for fire and rescue teams as they try to prevent the blazes from spreading further.
Military reservists have also been drafted into action, giving an indication of the scale of the problem.
There has so far been no loss of life reported but many people have been treated for the effects of smoke inhalation.
Wildfires are common in Israel but the latest are the worst the country has experienced since 2010, when 42 people were killed.