The airline posted on Twitter that flight CX250 landed at Novosibirsk on Wednesday morning after a signal indicated a fire in one of its cargo holds.
Passenger Michael Ots told Sky News: "Basically everyone was asleep with nothing unusual. First thing we noticed was that the cabin crew were running around very frantically. Obviously everyone wakes up pretty fast when that happens!
"The pilot announced we were making a 'precautionary landing due to a technical issue'.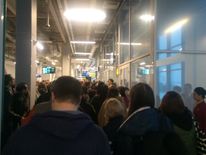 "Since then we waited for seven hours in the departure lounge and we are now at a hotel where we'll stay til a new flight arrives to take us on at midnight.
"Obviously it's quite a diverting experience for everyone and mostly I think people are glad to be OK rather than annoyed at bring inconvenienced!"
In a statement, the airline said: "Cathay Pacific Flight CX250 from London Heathrow to Hong Kong (which departed at 18.02 local time on 22 November) was diverted to Novosibirsk International Airport in Russia approximately six hours into its journey due to a signal in the flight deck that indicated a possible fire in the aft cargo hold.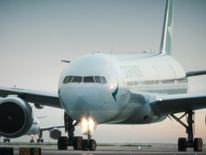 "At this time there is no evidence that there was a fire in the aft cargo hold of the Boeing 777-300ER.
"The safety of our passengers and crew is our top priority.
"Cathay Pacific has arranged another aircraft … to help the passengers and crew to fly to Hong Kong."
Passengers were being accommodated at hotels near the airport. Cabin crew were also providing necessary support, the airline added.
A spokesperson for Cathay Pacific said: "We would like to thank the Novosibirsk authorities and local teams for the support they have extended to our operation and passengers.
"We also appreciate the understanding of our passengers as well as the prompt actions of the flight and cabin crew."