The Missouri city's police chief Sam Dotson said the officer was shot when a car pulled up next to his cruiser and someone opened fire twice before speeding away.
Just hours earlier, another officer had been fatally shot in the head in an apparent ambush in San Antonio, Texas.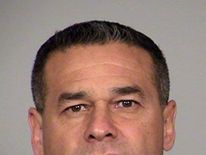 Chief Dotson said the officer was not involved in a call but was sitting in traffic when the attack happened at about 7.30pm in a suburb called St Louis Hills.
"This officer was driving down the road and was ambushed by an individual who pointed a gun at him from inside of his car and shot out the police officer's window," he said. 
The city's mayor, Francis Slay, said the officer did nothing to provoke an attack.
He added: "This officer is a husband, with three children, he was shot twice in the face without provocation while protecting our streets.
"He didn't deserve this. He was just doing his job, didn't pull anybody over, didn't point a gun at anyone, he was targeted because he was a police officer."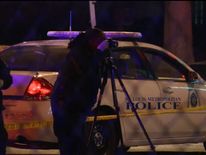 The 46-year-old officer has been with the force for about 20 years and is married with three children. He is expected to survive.
Police are using helicopters and SWAT teams to find the suspect, who is believed to have been driving a silver car.
Meanwhile, police in Texas also continued to hunt for the suspect who shot dead 50-year-old Detective Benjamin Marconi, a 20-year veteran of the force, who was writing a traffic ticket.
San Antonio police chief William McManus said the detective was in his car when another driver pulled up from behind in a black car with tinted windows.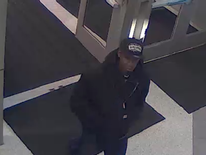 He then got out, walked up to the officer's driver-side window and shot Marconi twice in the head, then walked back to his car and drove away.
Mr McManus said a search for the suspect was ongoing.
He said: "We consider this suspect to be extremely dangerous and a clear threat to law enforcement officers and the public."
The police department posted a photo of a man it wants to talk to on its Facebook page.
"This is everyone's worst nightmare," said Mr McManus. You never want to see anything like this happen."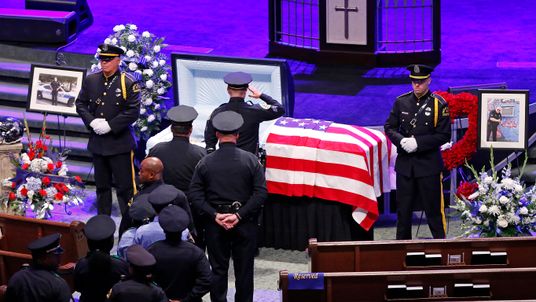 There were a further two officers shot the same day – one along with a suspect near Kansas City and another in the shoulder during a traffic stop in Florida.
He said he did not believe there to be a link between the motorist who had been pulled over and the shooter.
Five months ago, a gunman killed five officers in Dallas who were working at a protest about the fatal police shootings of black men in Minnesota and Louisiana. 
Ten days after the Dallas attack, a man wearing a mask killed three officers near a petrol station.
And earlier this month, two police officers from Des Moines, Iowa, were fatally shot in separate ambush-style attacks while sitting in their patrol cars.
It is not known if police are linking any of the attacks.